This article was originally published on
Kueez
Believe it or not, but when the first Hooters restaurant opened on April Fool's Day back in 1983, the founders had no idea that the place would become so famous. And while Hooters claims to have created a family-friendly environment, we all know that the place is famous for its flirty atmosphere and attractive waitstaff in tiny, tight uniforms. For some of them working at Hooters brought on some truly unbelievable stories. Read on for the best, worst, and truly inconceivable tales that happened to Hooters workers on the job.
​Pre-Shift Preparation Is Called A Jump Start
According to a former Hooters employee, before a shift, every Hooters employee meets for what is known as a jump start. Everyone has to get together to go through a few checks including perfectly styled hair, make-up on, and painted nails.
Apparently, if an employee doesn't have any of these prerequisites sorted by then, they have to pull it all off in a few minutes before starting the shift. 
Hooters Girls Wages Are Pretty Low
Unfortunately, Hooters waitresses don't make that much money, especially in establishments around the USA, where waitresses earn mostly from tips as their wage is incredibly low. According to a former Hooters girl, waitresses made about two bucks per hour at the time she worked there.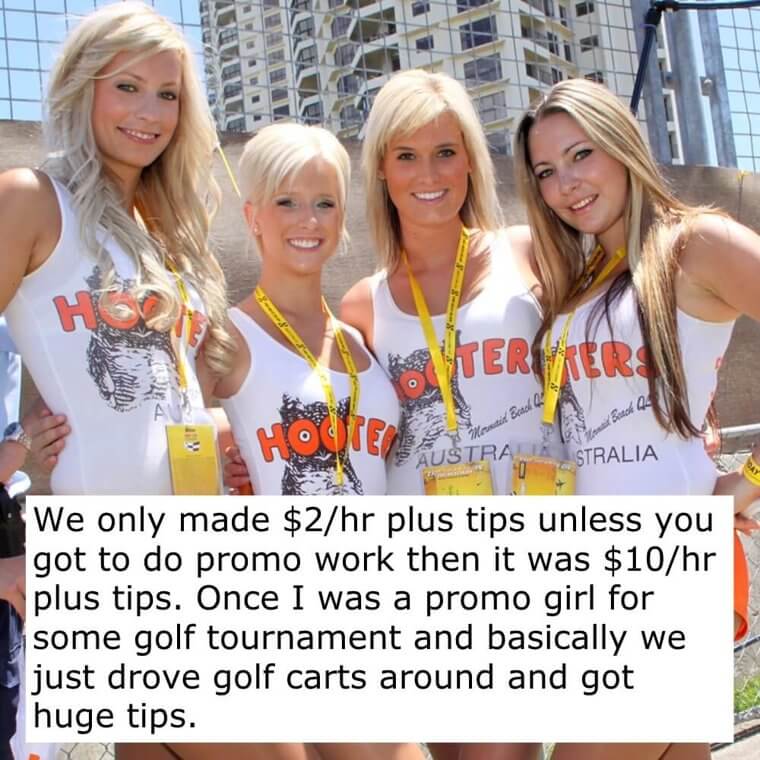 She did point out though that staff members made more money whenever they did promotional work, which could be posing for pictures with the public or driving around in a golf car.
They Look For A Very Specific Type Of Girl
Due to the reputation and the kind of restaurant that Hooters is, the brand only hires a specific type of girl. The chain specifically focuses on girls with a clean-cut look, which means no piercings and no visible tattoos, while also searching for a "good-time girl."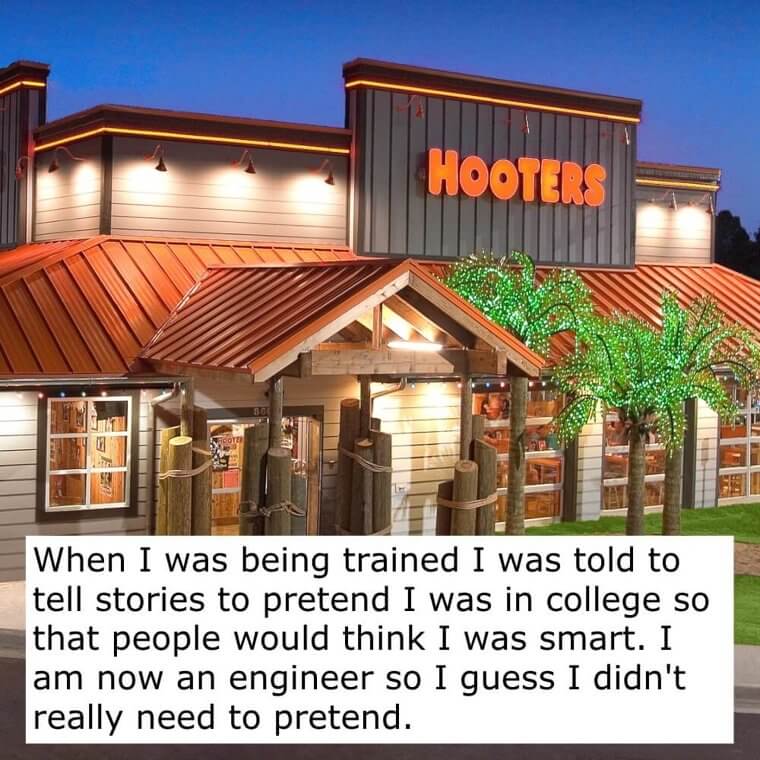 Whenever they advertise for a Hooters girl, they actually write that they are looking for a person with the "ability to maintain attractive fit and image," and they ask their servers to engage in conversation. This former employee was asked to tell patrons that she was going to college to make them think she was more than just a pretty face--but she really was more than just a pretty face.
​You Might Be Asked To Hula Hoop During An Interview
It's no surprise that the company's hiring practices may not always be seen in a good light. In the end, a job criterion that is based on one's attractiveness and ability to maintain it is somewhat problematic.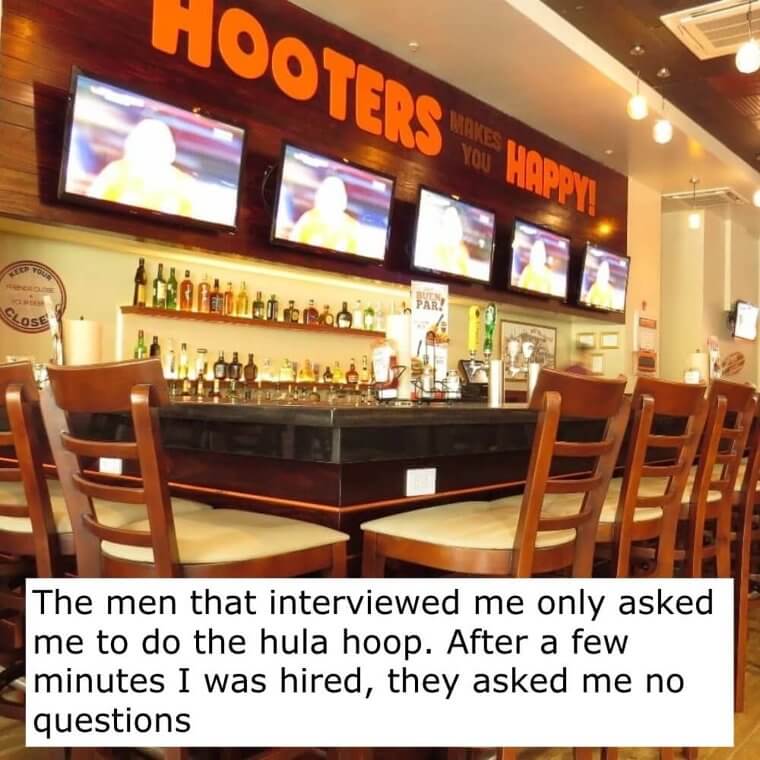 This former Hooters girl shares that her interview at the establishment was far from normal, as she was asked to hula hoop in front of everyone, and was then hired on the spot with no additional questions asked.
You've Got To Follow Procedure Every Single Time
Many companies out there use something called "secret shoppers" to ensure that an establishment is running exactly the way it should. This could mean making sure that staff are paying enough attention to their customers, and seating them in a timely manner.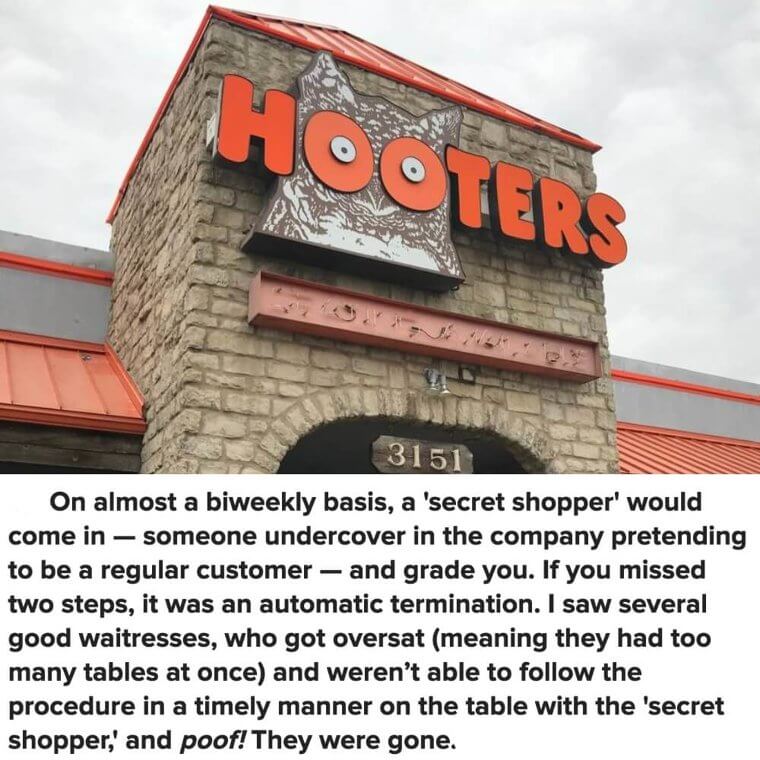 Apparently, many Hooters' girls have been fired after secret shoppers noticed that they weren't following all the steps they were supposed to on busy shifts, which failed to impress them. No second chances here!
​Some People Have A Lot Of Fun Working There
While it seems like Hooters definitely asks quite a bit from its waitstaff, many former Hooters girls claim to have had a great time working there. Yes, the place often has way too many creeps floating around, but it could also be a really cool and fun working environment if this is your type of crew.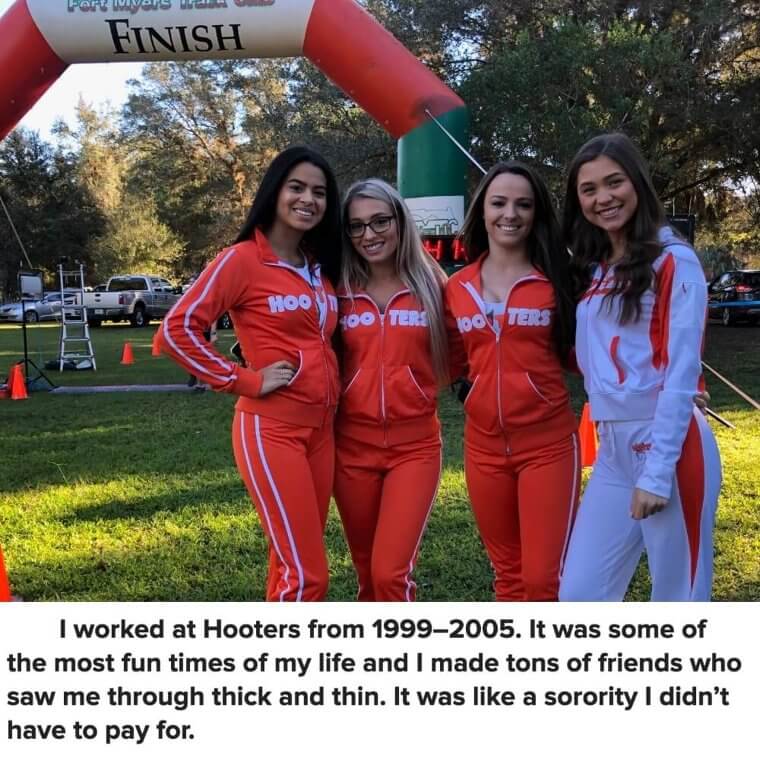 A former Hooters girl who worked there for six years described the place as a fun sorority, which was exactly what she was looking for.
​Big Tips Often Come With The Weirdest Requests
It's no surprise that whoever works at Hooters will have their fair share of experiences with creepy customers. Unfortunately, that's just an unavoidable part of working there. Yet, many of these creeps come with cash, as this former Hooters girl shared.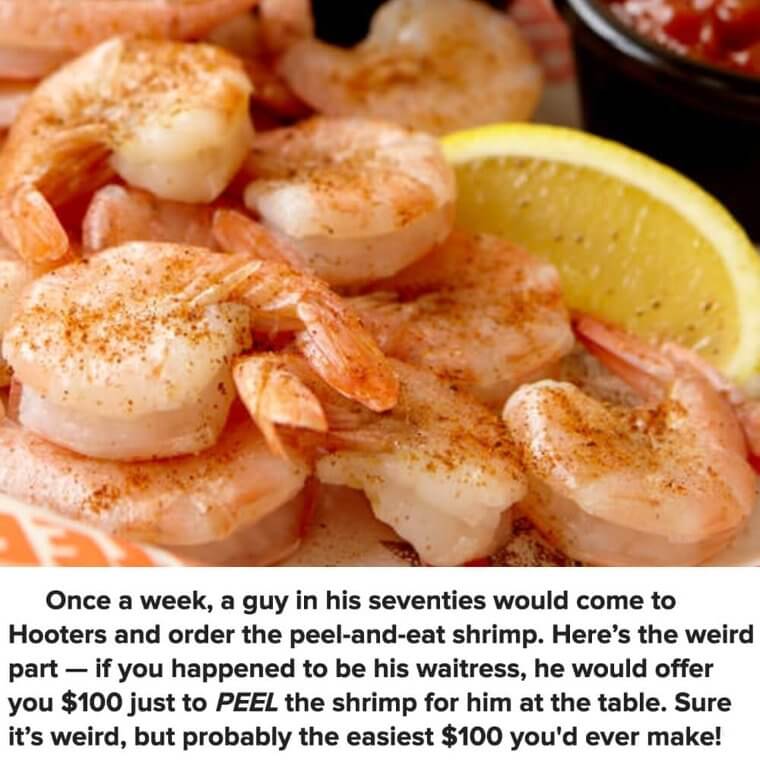 Apparently, she used to make $100 for peeling an elderly man's shrimp for him whenever he'd come in, always with the same request. How disturbing...
Hooters May Contribute Towards Your College Tuition Fee
Apparently, the chain has a college reimbursement program that rewards staff members who decide to go through with their higher education. The scheme may start if the employee has worked for the company for at least six months.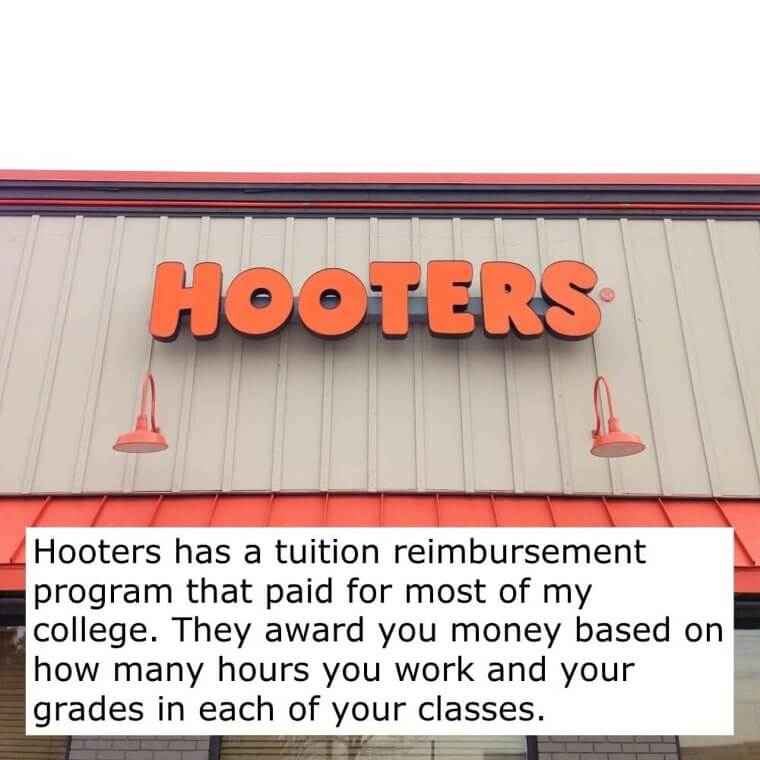 According to a former waitress, college students have to submit their grades at the end of each semester, and after taking GPA tests, work hours, and course hours into consideration.
Some Loyal Customers Have Entire Hooters Photo Albums
Let's be completely honest, the world is full of strange folks and there is nothing we can do about it, especially at a place like Hooters. And unfortunately, too many of them attend the chain for reasons that we're all well aware of.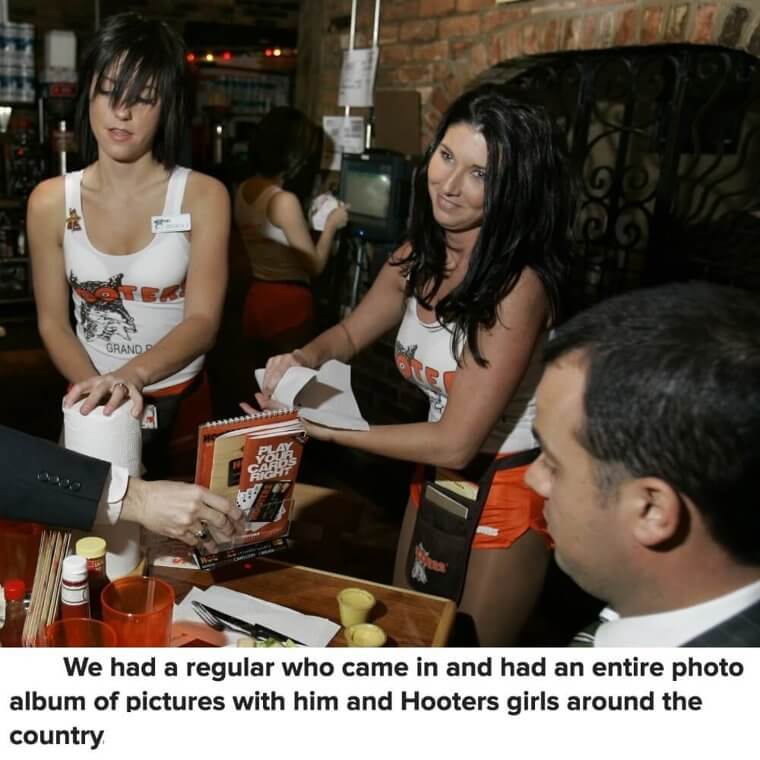 One Hooters regular actually told this Hooters waitress that he had an entire album with photos dedicated to himself and Hooters girls all over the country. That's some hobby.
​The Hooters Greeting Is The Same Everywhere
Just like many chain restaurants, Hooters uses a particular way of greeting customers - which should be consistent in any location, no matter where they are. Hooters girls usually start by introducing themselves and subsequently writing their names on a napkin.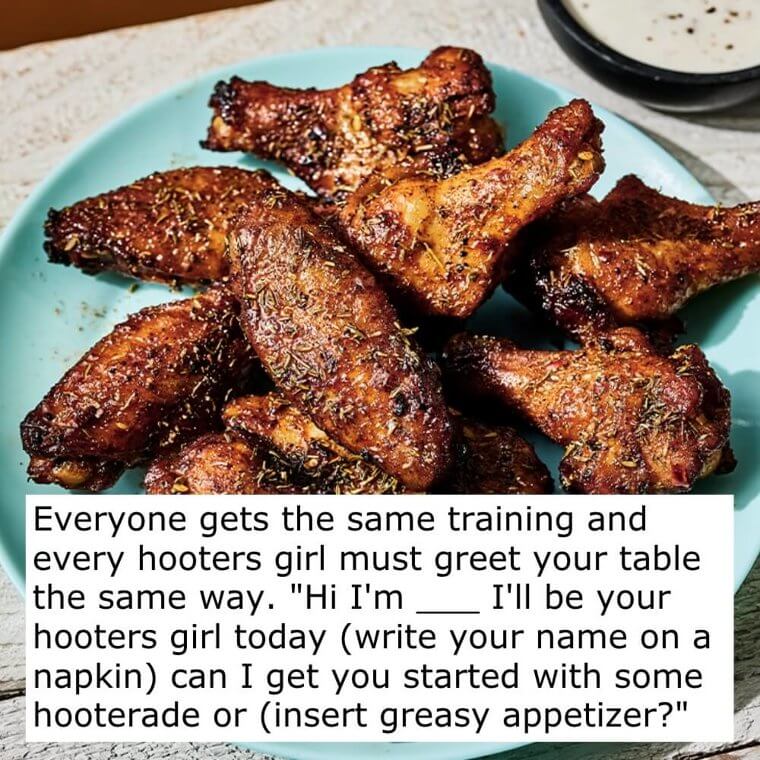 Afterward, they will offer their customers some Hooterade and will do their best to sell them one of the restaurant's appetizers. Consistency is key.
​They Get A Salad A Day
One thing to know is that Hooters offers all of their staff a free meal per shift. Yet, since women's appearances are seemingly so important at the establishment, the restaurant could simply not risk having its staff eating cake and its delicious signature wings every shift.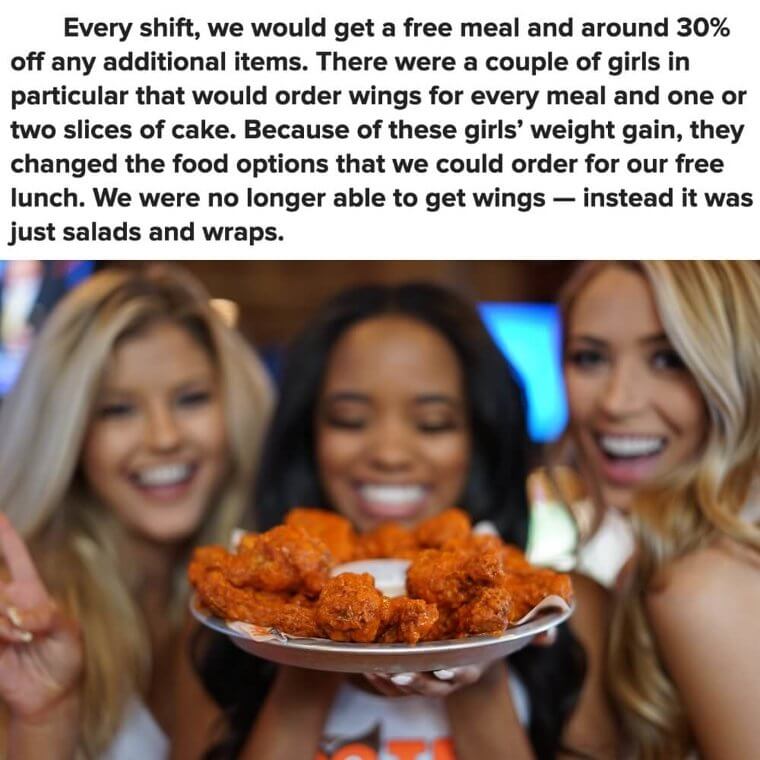 Instead, Hooters waitresses get to eat either wraps or salad every single day, yum!
​Singing For Customers Is A Must
Just like many other American restaurants, Hooters' waiters are expected to sing for their customers whenever a special occasion happens. The song is different depending on the location, with certain Hooters girls simply singing happy birthday, and others dancing to the Chicken Dance or the Hokey Pokey.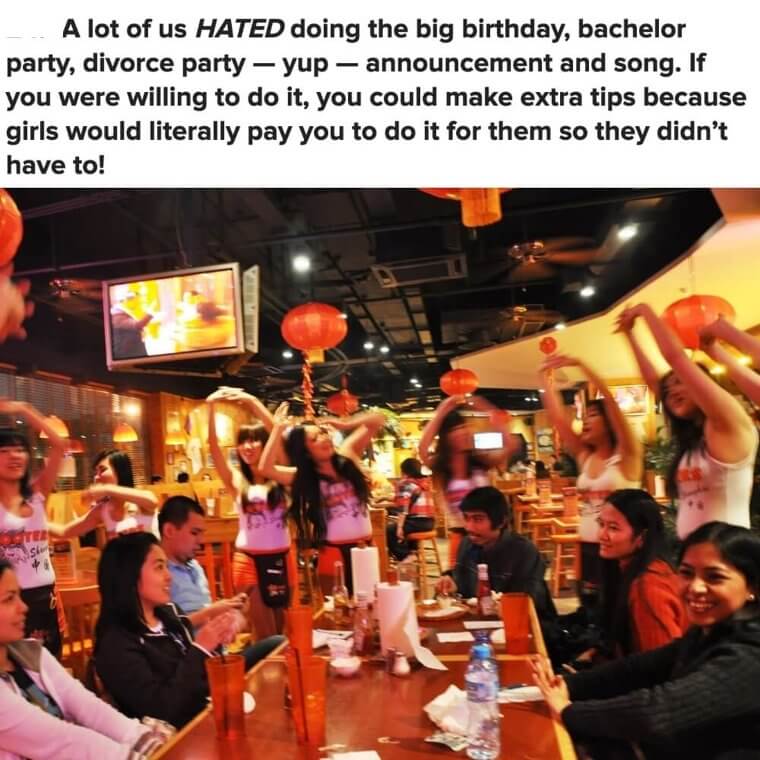 A former employee claims to have hated singing for customers, but unfortunately, they never really get much of an option to choose whether or not to sing. 
​Families Are Strangely Welcome At Hooters
Apparently, Hooters is in fact considered to be a reasonable place for families to bring their small children. While the restaurant would certainly be seen as a place for adults for most people, there is no age-restricted policy at the establishment.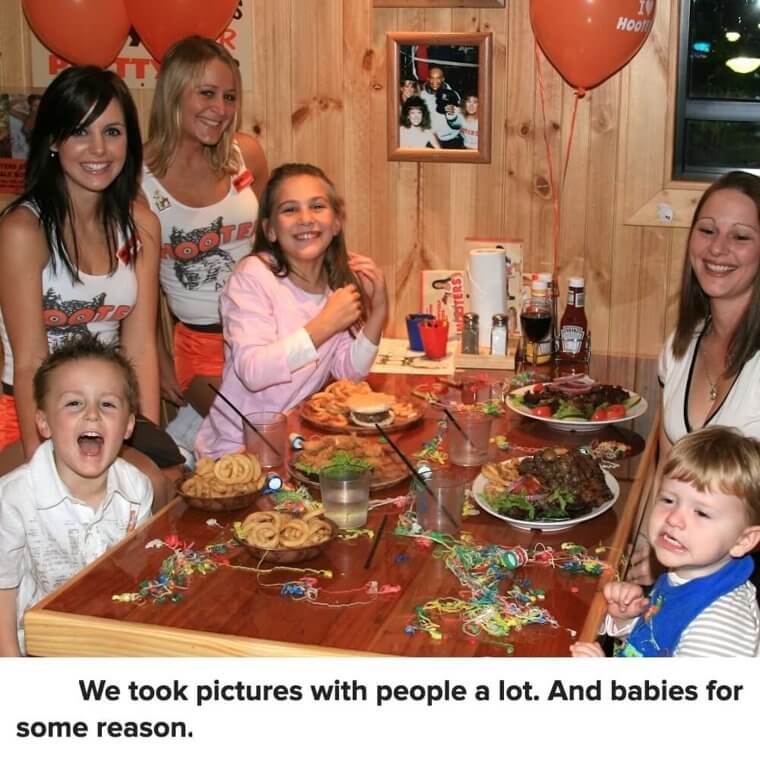 Former Hooters girls have claimed to pose for photographs with children and even with babies, while their parents excitingly snap several shots.
​Hooters Girls Can Only Wear Their Uniform At Work
Since only girls can work as wait staff at Hooters, their unifrom comes with its own special set of rules. In the end, the Hooters girl is meant to stay mysterious, otherwise, literally anyone could put on a pair of hot pants and start serving wings to customers.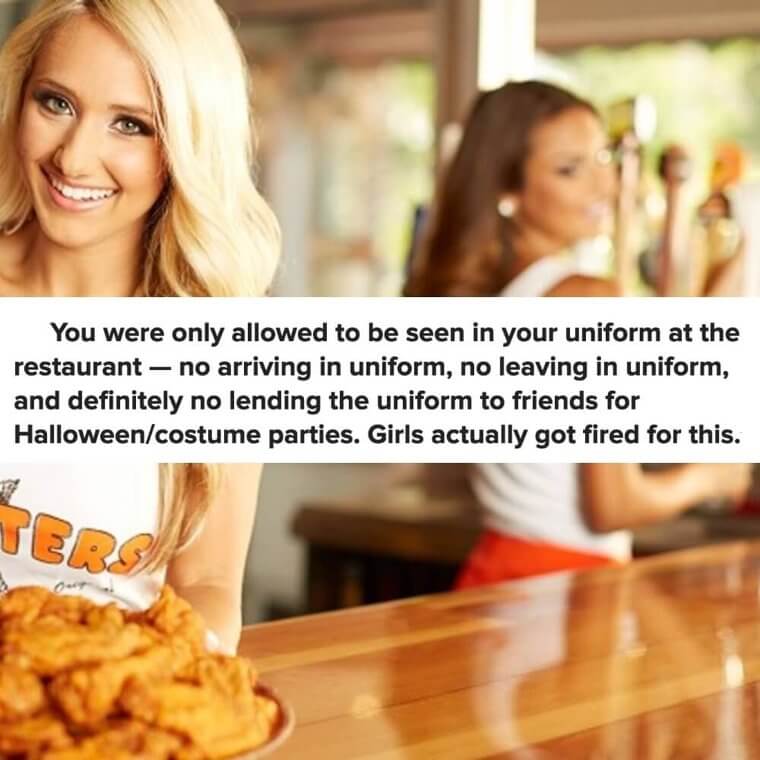 This also means that Hooters staff may not wear their uniform outside of work and they can never land it to anyone either, not even for Halloween. Bummer.
​A Guy Used To Paint Hooters' Girls Pictures
When unusual customers show up at Hooters, things can get pretty strange. But one guy managed to take the cake in how uncomfortable he made Hooters girls feel.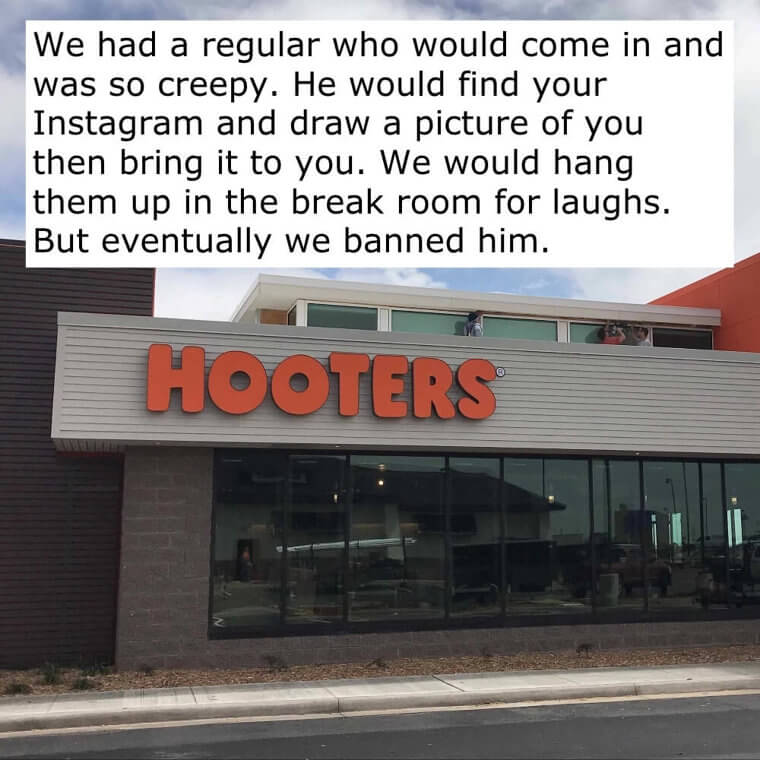 According to a former employee, this guy used to look up Hooters girls on Instagram, draw portraits of them, and then give it to them as a present. How disturbing is that?
​Sports Are Also Their Thing
While Hooters is definitely all about attractive women and chicken wings, it's also really in line with sports. The famous restaurant chain is known for having huge TV screens constantly showing different sports.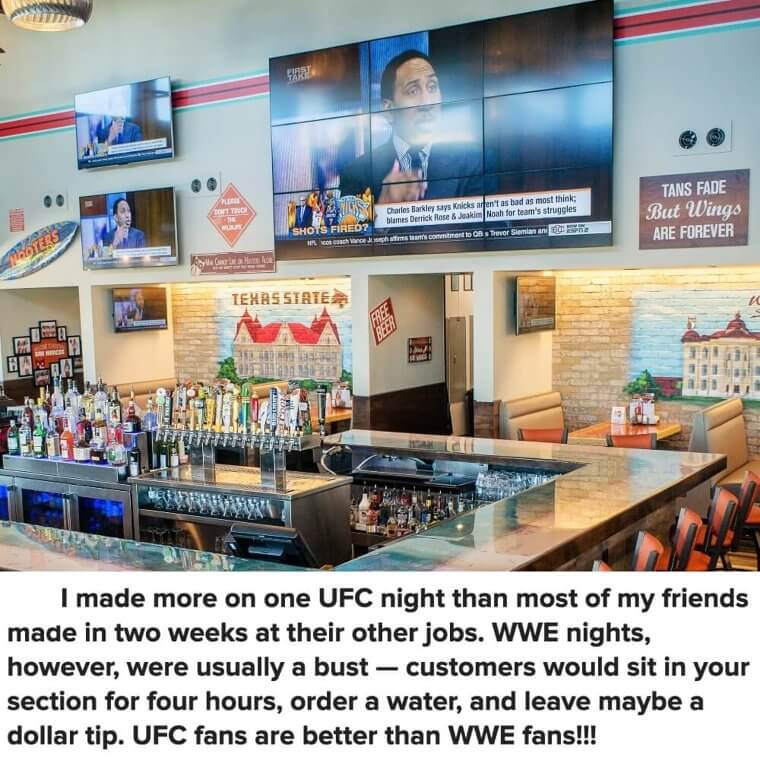 They even offer special bundles for the largest games of whatever sport was on. According to a former employee, UFC fans were always the most fun and generous sports fans to host and serve.
​Hooters Waitstaff Sometimes Play Pickle Races
By now, it's pretty clear that Hooters can be a very fun place to work, and though it's not easy, it certainly looks pretty entertaining. If you end up liking your colleagues and actually enjoying what you do, working at Hooters might even be the perfect place for a bonding experience.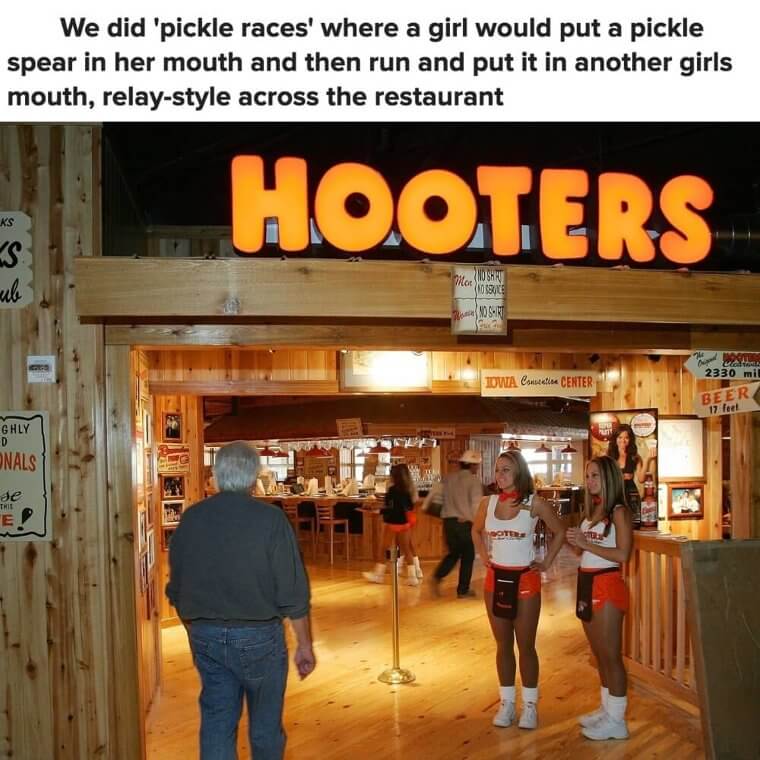 This former employee used to play weird games while working at the restaurant, including pickle races. Never heard of it? Now you have.
​Some Hooters Girls Are Subjected To Nasty Behaviors
Again, it probably comes as no surprise that Hooters girls are often subjected to really terrible behaviors from disrespectful customers. According to a former employee, nasty things happen almost on a daily basis.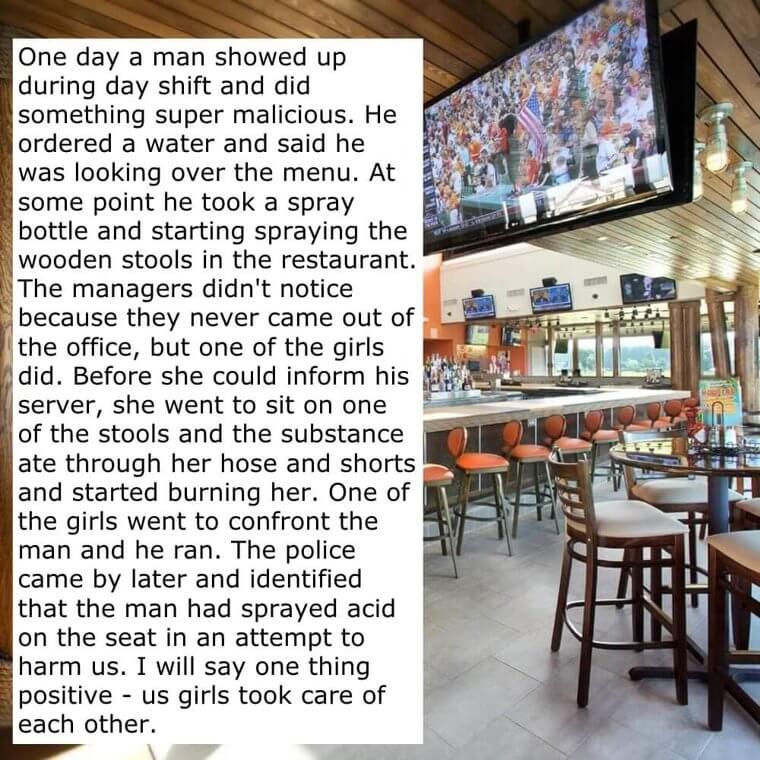 One time, a customer walked in and began spraying the restaurant's wooden furniture with acid. A server was actually severely burned after they sat down on one of the stools. Thankfully, the police arrived to handle the strange situation.
​Superiors Can Be Pretty Mean
While some former staff says that working at Hooters can definitely be great fun, others denounce how cruel the experience can be sometimes.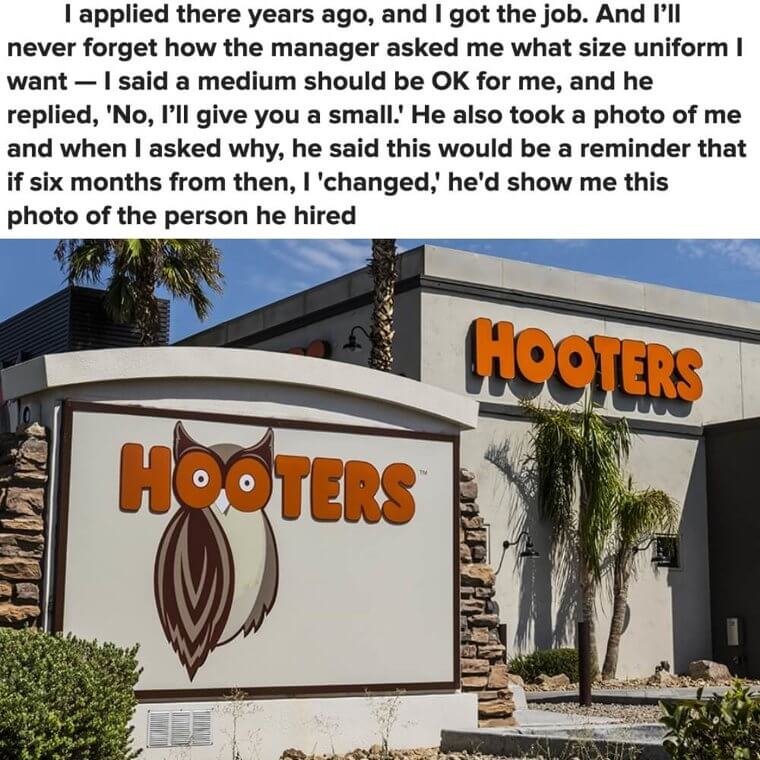 One former Hooters girl claims that during her job interview, she felt like the manager treated her like a piece of meat. He gave her a uniform that was too small on purpose, and took a photo of her, and threatened to use it if she became less attractive after she started working there.
​Everything From Head To Toe Is Dictated
It can be really hard to maintain the image that Hooters managers expect from their workers. Waitresses not only have to look a certain way, wear orange hot pants and really tight tank tops, they also have to constantly keep their appearance in check.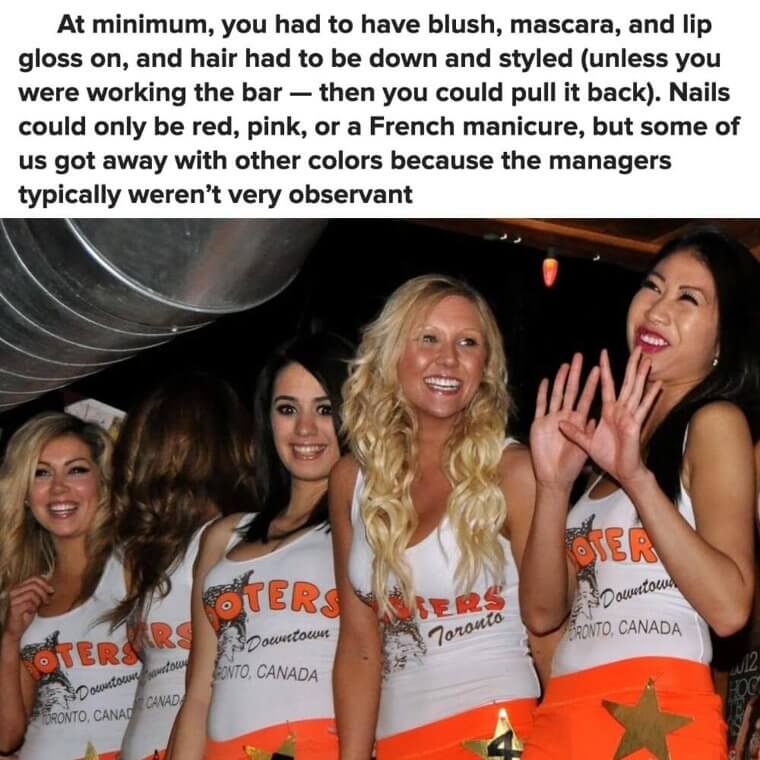 Everything has to be a certain way when it comes to their looks, including the nail color, how their hair is styled and the list goes on.
​If You're A Size Medium or Large, You May Never Work There
Can you believe that Hooters doesn't actually provide a size medium to their workers? Yes, you heard it right. According to a former Hooters girl, waitstaff can only choose between  XXXS, XXS, XS, and S. Anything outside of that pattern is a big no-no for the chain.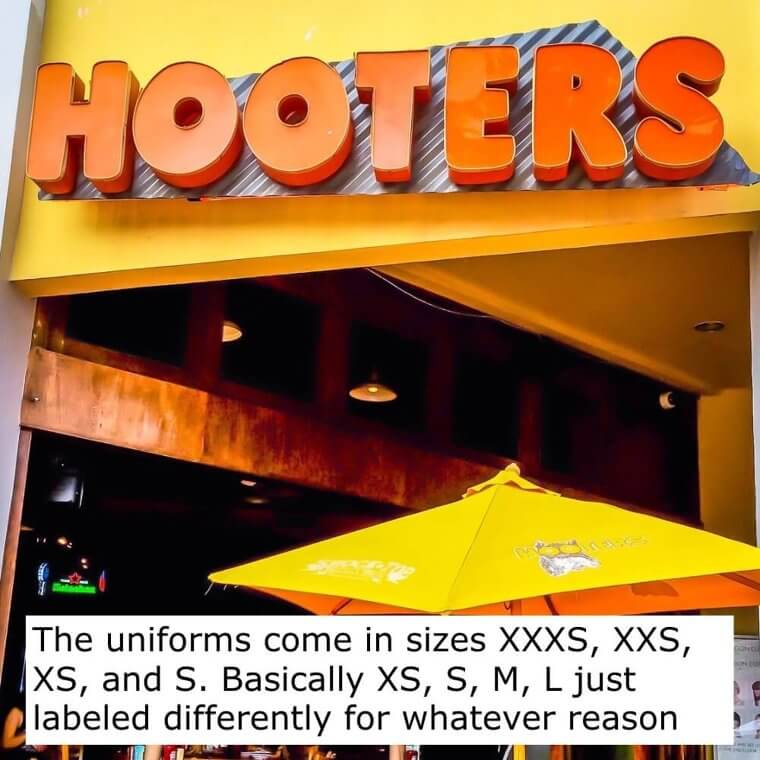 However, these sizes are actually XS, S, M, and L, only labeled differently. We honestly wonder why they still do this in this day and age.
​They Prefer Blonde Girls
It's not only a person's size that may tell whether or not they'll get a job at hooters, it's also their hair color. Apparently, the company has a preference for blonde girls for whatever reason.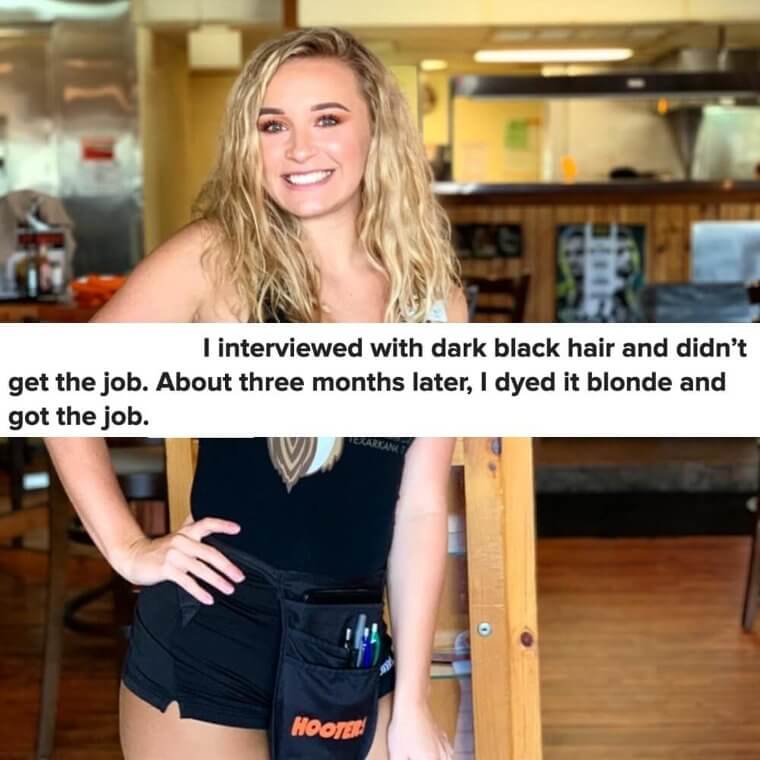 One former Hooters employee actually claimed that she didn't get the job when she applied for it with dark hair, and ended up getting it right away when she applied again as a blonde.
Not All Fun And Games
This former Hooters employee didn't have many positive things to say about the chain. She confirmed that the wage paid by the chain is hardly competitive, and that she had to perform cleaning duties from time to time while in uniform.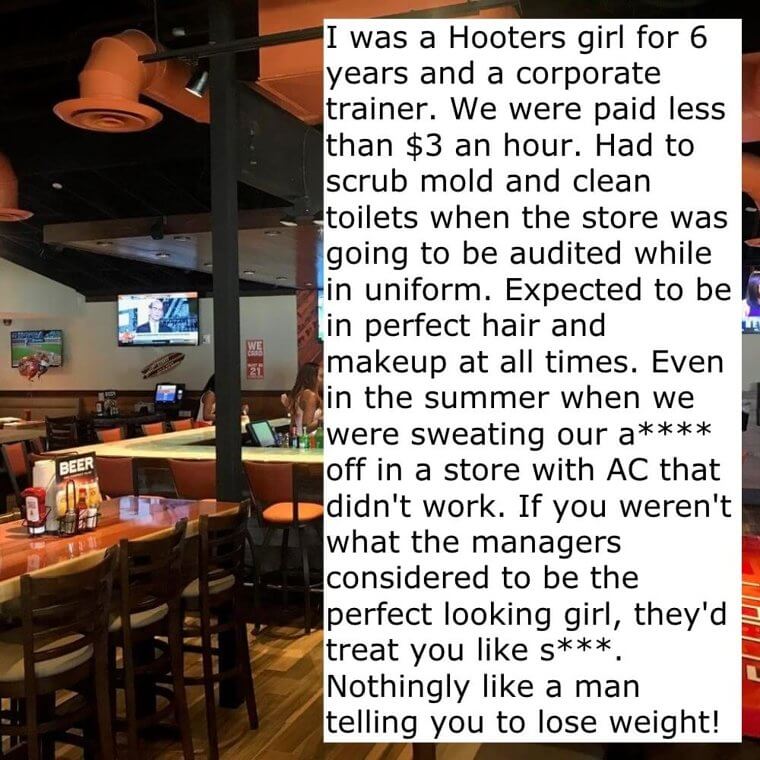 And what's worse is that she was expected to look flawless even while scrubbing and cleaning off mold. According to her, it is quite difficult to maintain an impeccable appearance when you're scrubbing toilets all day.
​Employees Are Not Allowed To Sue For Harassment
Apparently, Hooters employees are not allowed to sue the chain or the establishment they work in for harassment. We wonder how many suits they would have to go through if this weren't the case.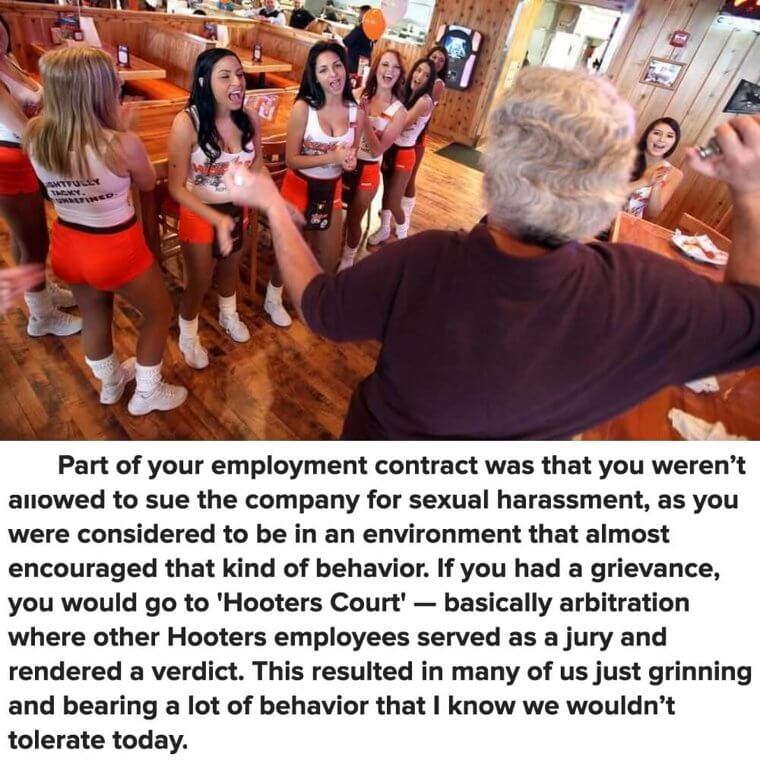 According to this ex-employee, the chain has its own justice system where employees serve as a jury and get to assess all cases.
​The Candy Man Was A Regular
If you've ever watched Chitty Chitty Bang Bang, then you might remember that creepy child catcher character that used to lure kids with candy.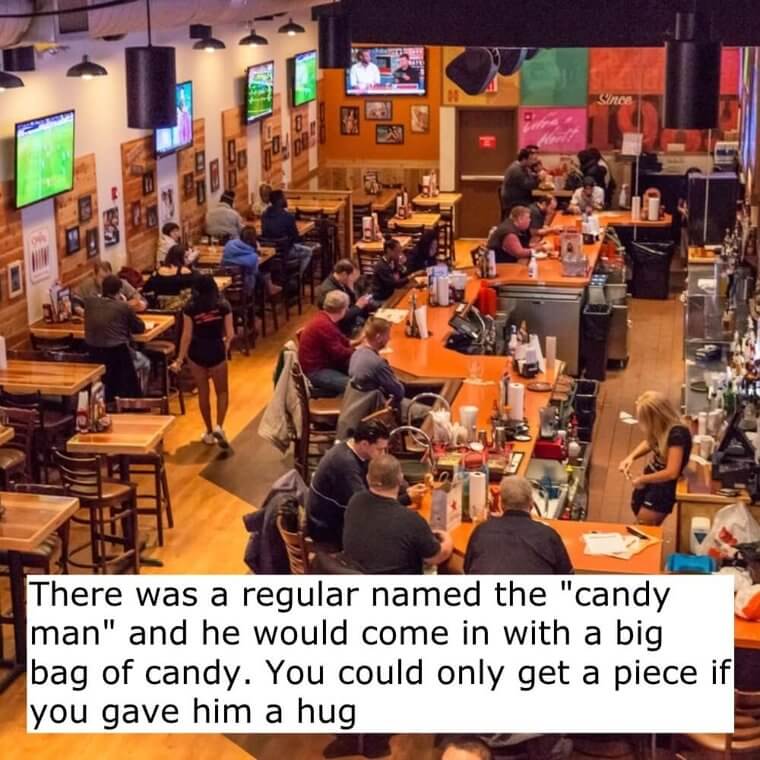 That film certainly comes to mind when you read the story of this next Hooters girl. She shared that a former regular, nicknamed "Candy Man," would come in offering candy to girls who agreed to hug him. We wonder if some actually agreed.
​Hooters Girls Can Be As Gross As We All Are
To be completely honest, this next Hooters confession makes us giggle a little bit. While many people may actually believe that attractive women are this sort of unique breed, the truth is that they are just human beings. That means that they can be pretty gross too.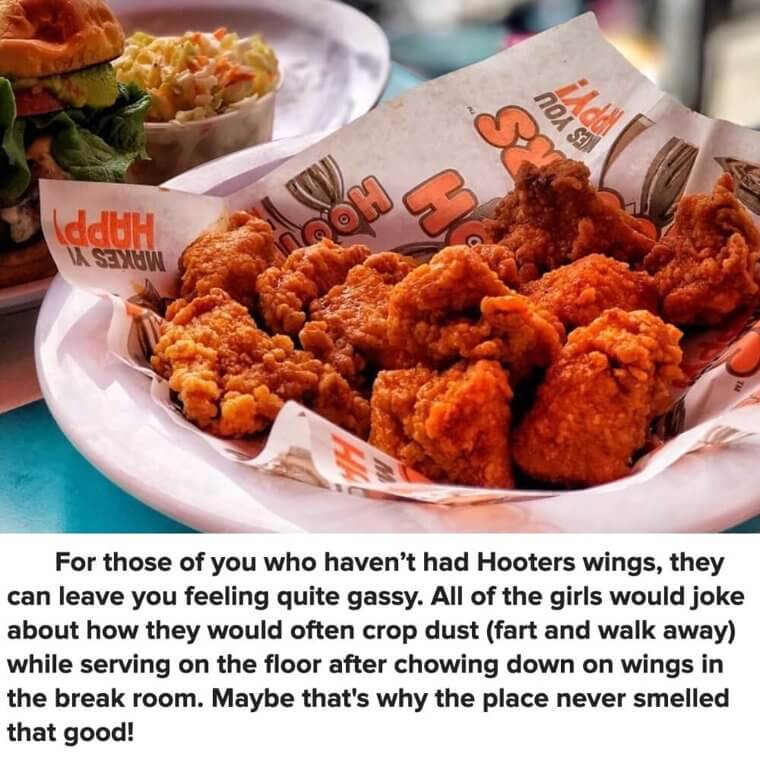 According to a former employee, some waitresses chow down wings during their break and end up struggling with gas the rest of the night while serving patrons.
​Some Hooters Branches Have Regular Games For Staff
As we said, it can sometimes be pretty fun to work at Hooters. At one branch, in particular, management used to let waitstaff choose their sections by playing games.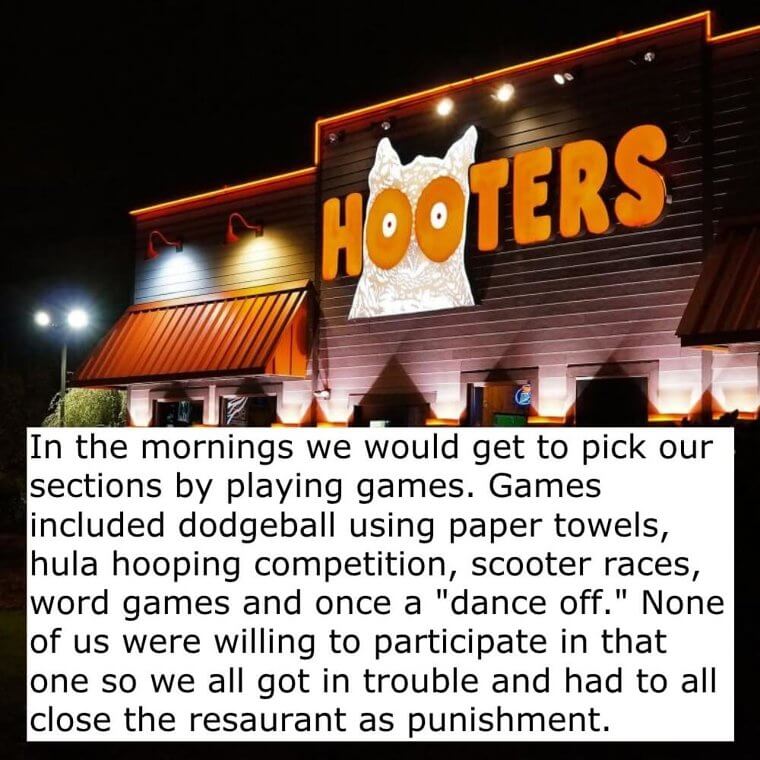 They would run around and have a nice time, and whoever won the game would get to choose their section first. Apparently, though, those who didn't want to participate in the game could be punished for it.
​Weight Warnings Are Constant
As we know all too well by now, Hooters staff are expected to look a certain way. Sadly, the scrutiny does not end once a person passes the job interview, in fact, it can get worse.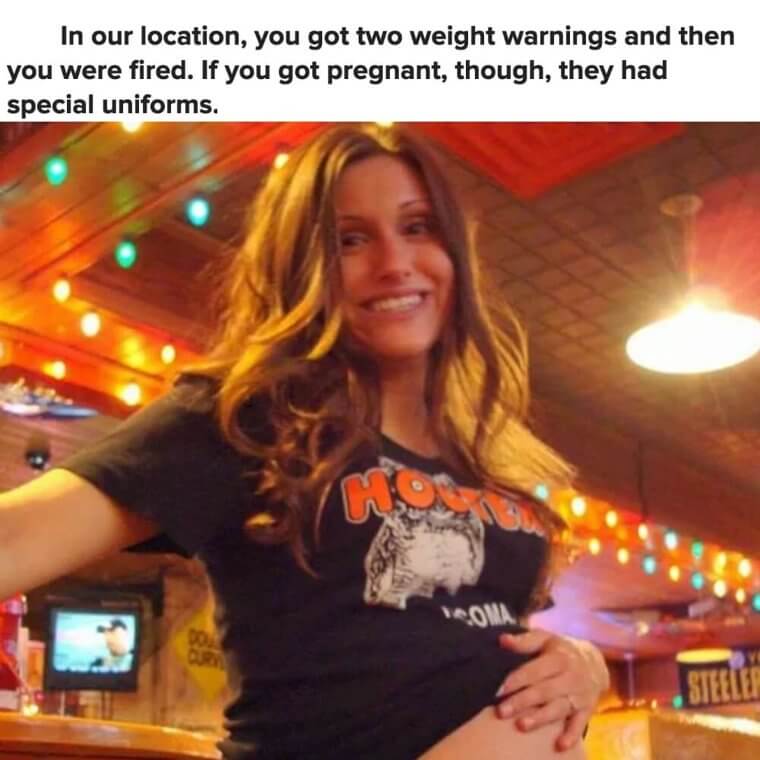 According to this former employee, a server who gains weight is given two warnings before they are officially fired. However, they also shared that if a Hooters girl gets pregnant, she gets a special uniform to work with.
​They Have To Buy Their Own Tights
You might have noticed that Hooters girls always wear a very specific type of pantyhose and tights. Instead of being bare-legged, the waitresses are required to wear a pair of shiny natural-colored tights, complete with orange hot pants.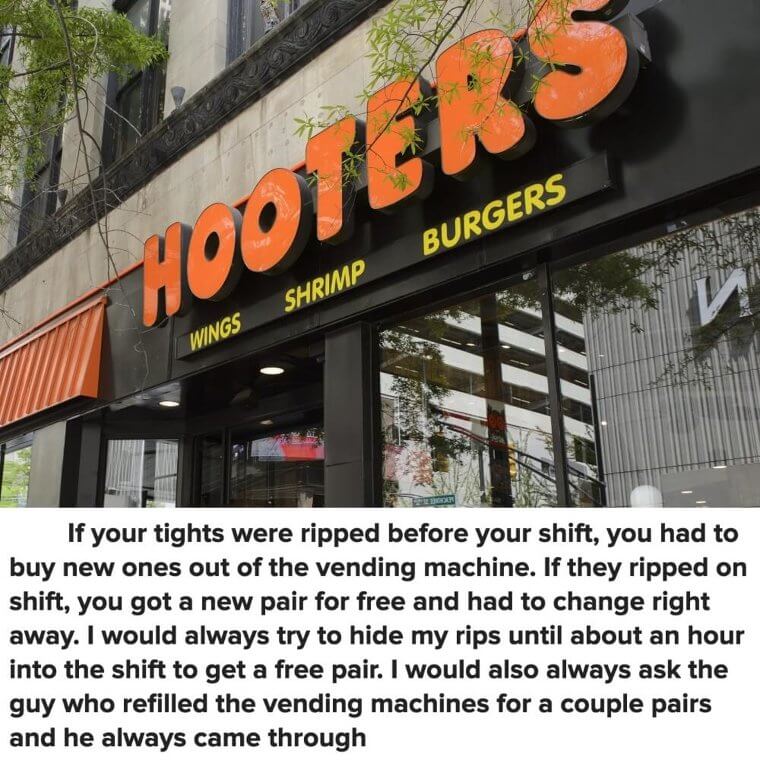 If a waitress gets their pantyhose ripped before a shift, she unfortunately has to for a new pair herself. If they tear during a shift, she gets a new pair for free. They even have special vending machines stocked with pantyhose. 
​Hooters Pantyhose Are Extremely Flammable
Apparently the Hooters pantyhose can be quite an issue. According to a former employee, the company's specific choice of pantyhose is really flammable.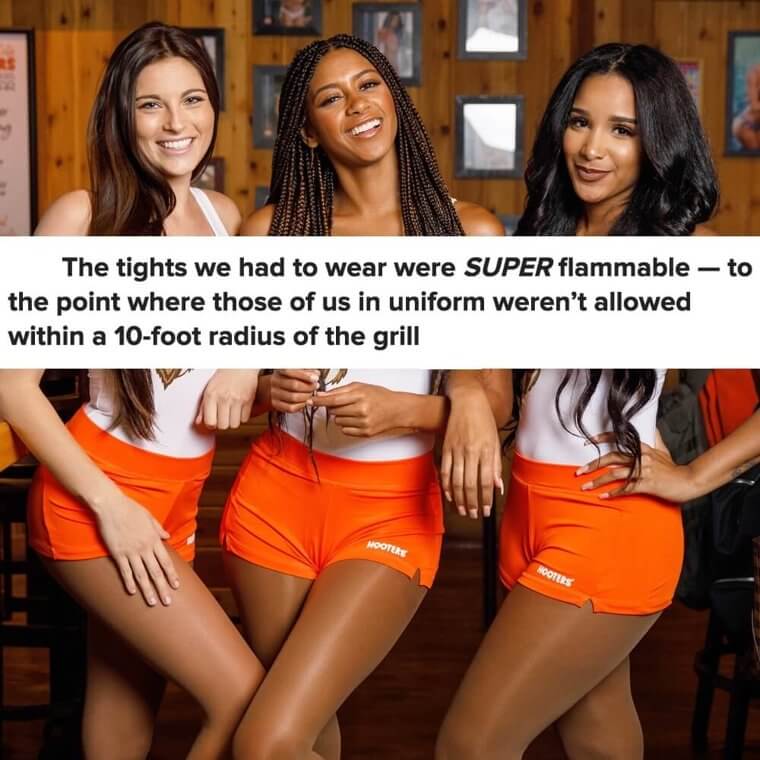 In fact, staff who wear the uniform tights are advised to stay away from the grill at least ten feet or more. Now isn't that a health and safety nightmare!
They Are Encouraged To Sit With Customers
It might sound strange, but Hooters waitstaff is allegedly encouraged to sit down with their customers and to engage in conversation. While doing this may make some sense for a person sitting alone without company, or at a bachelorette party to add some fun, it doesn't really work out with any customer.
As a matter of fact, it might be really awkward for some customers if Hooters girls are constantly trying to sit and chat with them, but they are obligated to.
​The Wall Of Shame For Creeps
It doesn't matter what type of creepy guy there is, the truth is that Hooters creeps come in all forms, leaving uncomfortable notes, offering their phone numbers though no one asked for them, and so much more.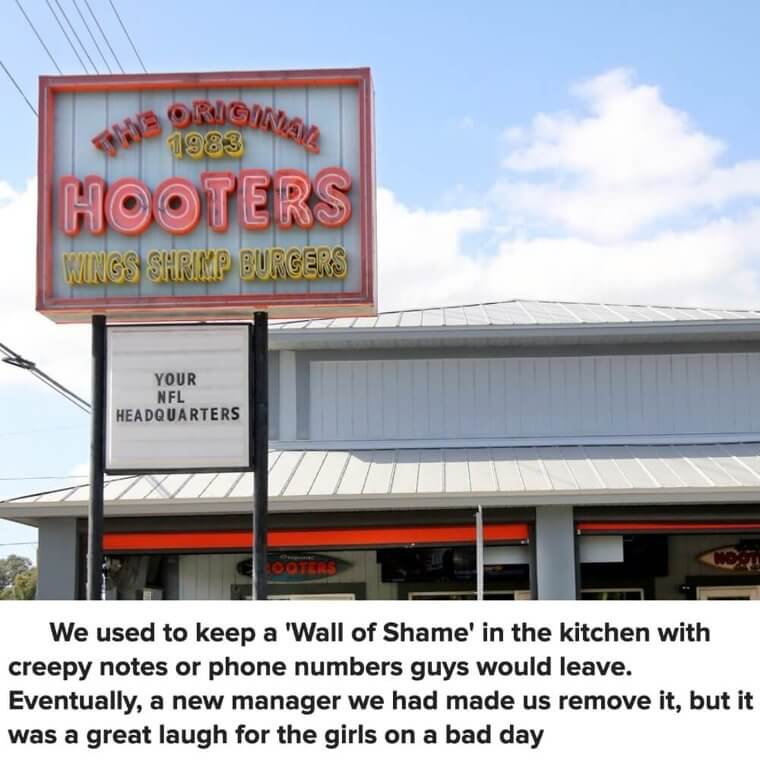 At some point at one Hooters branch, the staff decided to start a "Wall of Shame" in the kitchen for everyone to share their creepy encounters and notes left by clients to laugh together about them.
​People Like To Bring Their Small Children To Hooters
Like we said, Hooters has no age restriction. And as shocking as this may be, nothing stops teenagers and kids from coming into the restaurant no matter how young they are.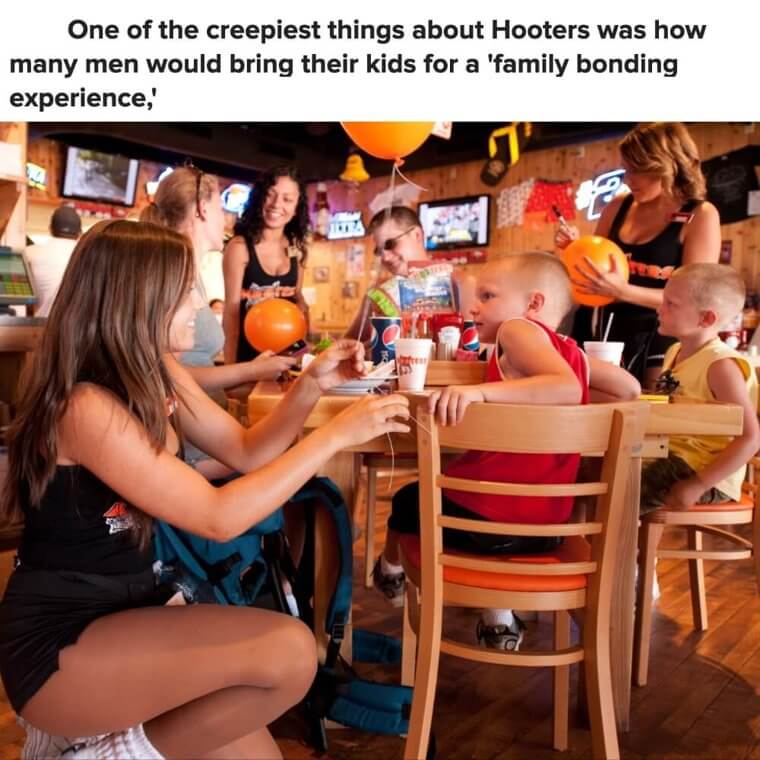 This former Hooters waitress pointed out that many men come in with their children to the establishment to have a "family bonding experience." While that certainly makes some people uncomfortable, apparently, some people find it completely normal.
Advertising Hooters Merchandise Is Common
Hooters is not just famous for its tasty wings and hamburgers. Many of their establishments also sell merchandise including keychains, clothing, food products, and even glassware.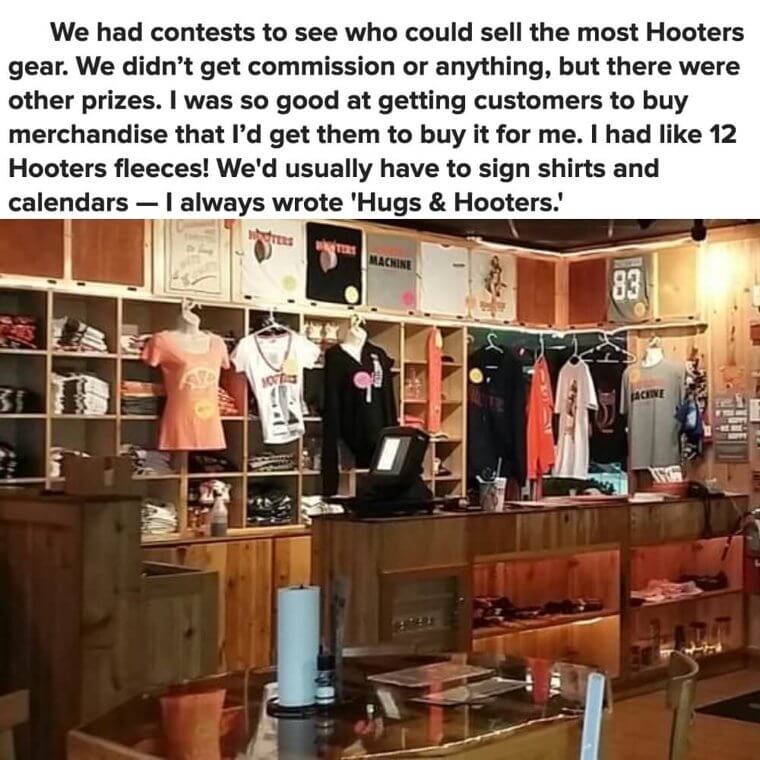 So if you love that wing sauce and you'd like to have some at home, you can actually buy it. And obviously, management really incentivizes its staff to advertise it to customers.
​Customers Can Request The Server They Want
It's safe to say that Hooters is not your regular restaurant. While the establishment does serve food and constantly shows sports, there is much more to experience there than just watching football and eating a sandwich.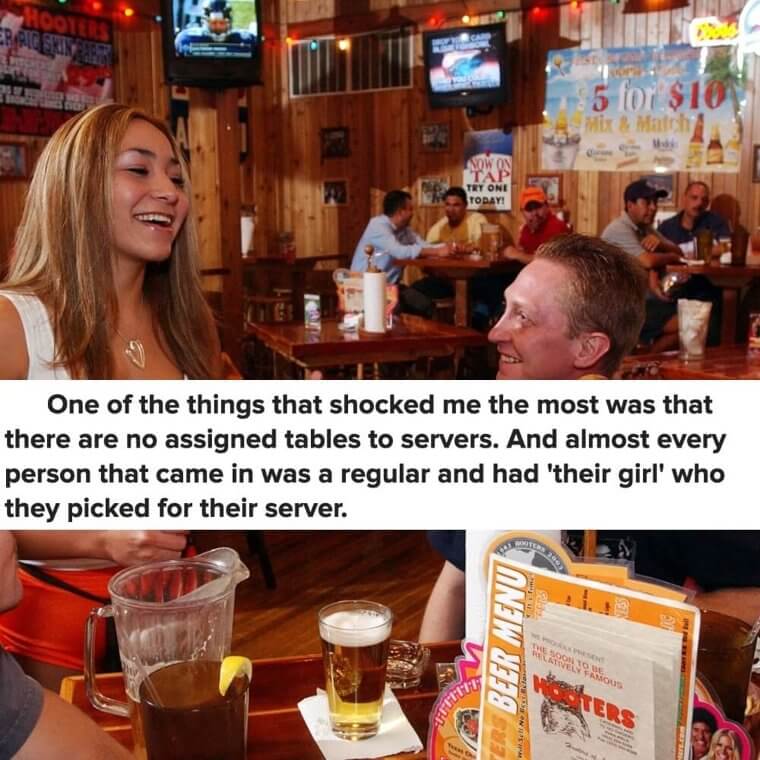 Sadly, many customers only go there because of the women. Some actually have favorites and request a specific person to serve them, which doesn't really work hand in hand with having tables assigned.
​Employees May Not Eat In Front Of Customers
If you read this far, it's clear that at least one Hooters branch has banned their staff from eating cake and wings in order to avoid their weight again. And while Hooters does feed their employees with a selected type of food, they aren't actually allowed to be seen eating it.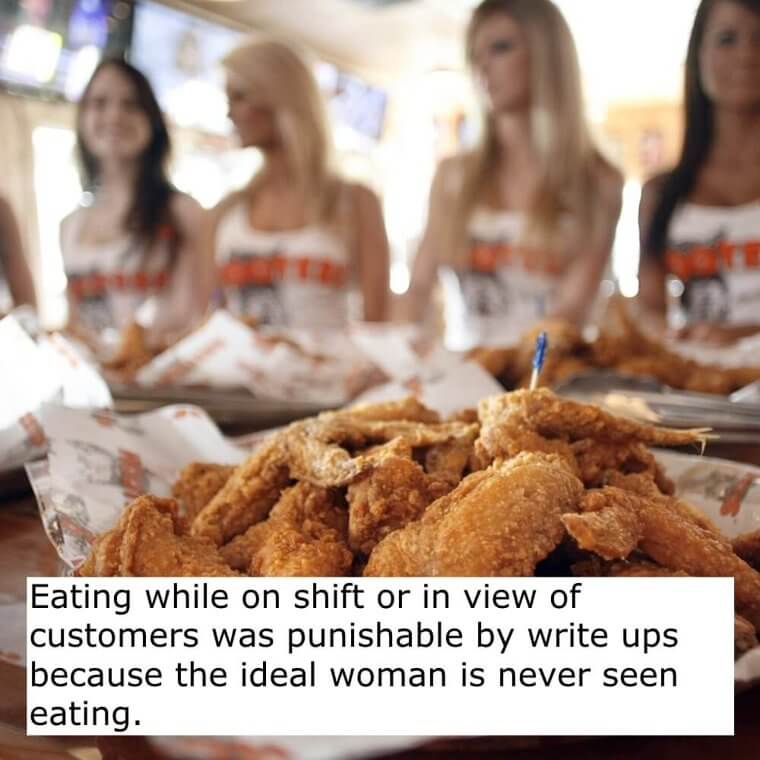 A former employee has claimed that the company forbids Hooters girls from eating in front of customers because they believe that "the ideal woman" is never to be seen eating. What do you think about that?
​Hooters Girls Must Follow Certain Rules
According to several ex-employees, Hooters really does have a set of rules that no other restaurant out there would ever be able to pull off. Manicured nails, no tattoos (unless they're covered up), and a few other specific things are prerequisites for anyone to work there.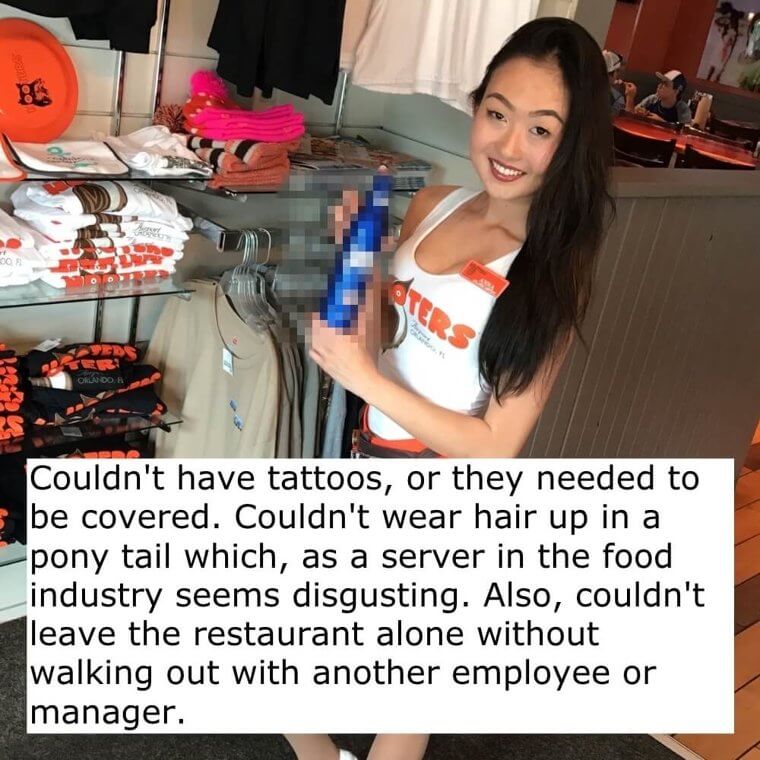 But who would have thought that having your hair up is also a big no-no at Hooters? Considering this is the food industry, most places actually demand the opposite from their waitstaff.
​They Can Get Free T-Shirts At Different Locations
According to another former Hooters employee, the company has a policy that allows staff from different locations to get some benefits in other chains.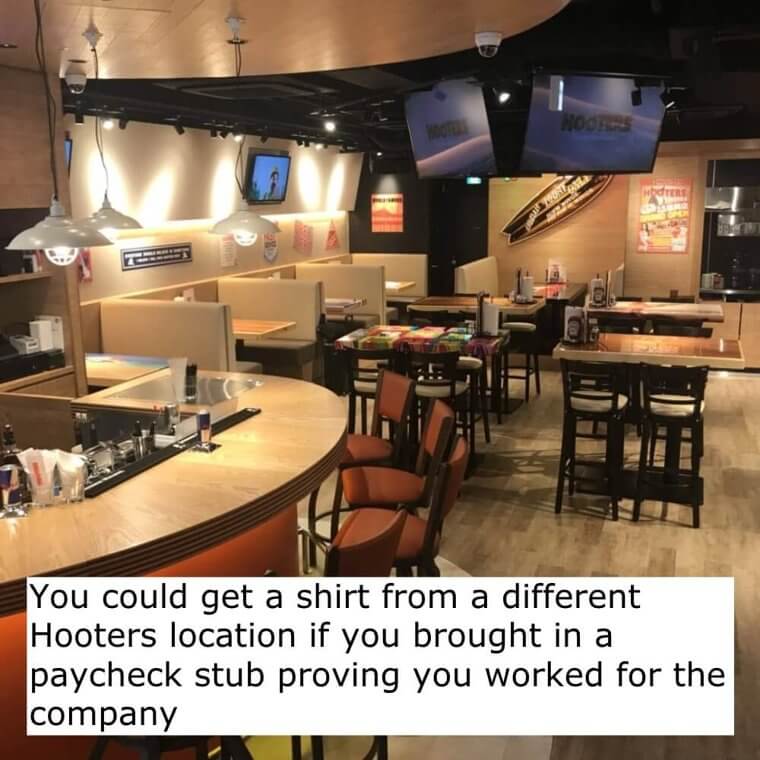 For example, if a Hooters waitress shows their paycheck stub at a location where they don't work, they may actually get themselves a t-shirt. Each location has its own city printed on their t-shirt, which means Hooters staff can have a nice collection of T-shirts.
​Hooters Girls Are Escorted To Their Cars After A Shift
Many former Hooters girls have confirmed that the company has a policy that ensures Hooters waitstaff are escorted to their cars after their shifts end.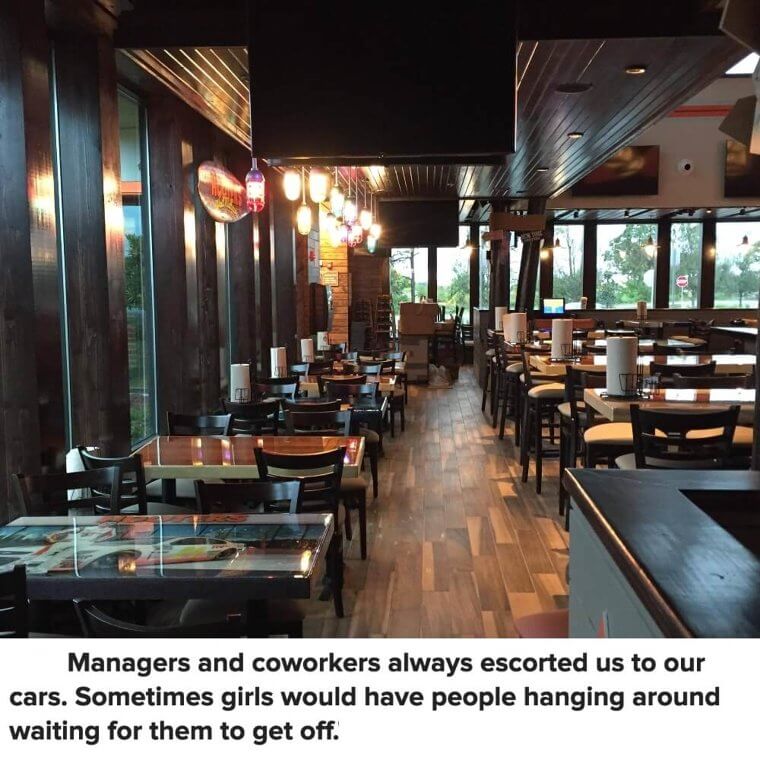 While this was their way of taking safety measures, it's pretty alarming that Hooters customers will actually wait around for the girls to finish their shift. While the company seems to have a policy in place, it seems like approaching the root problem could be more efficient.
​They Sing "Weenie Man" At A Certain Hooters Location
While Hooters girls are expected to sing songs, especially happy birthday songs at different locations, there is one location in particular where things get pretty funky.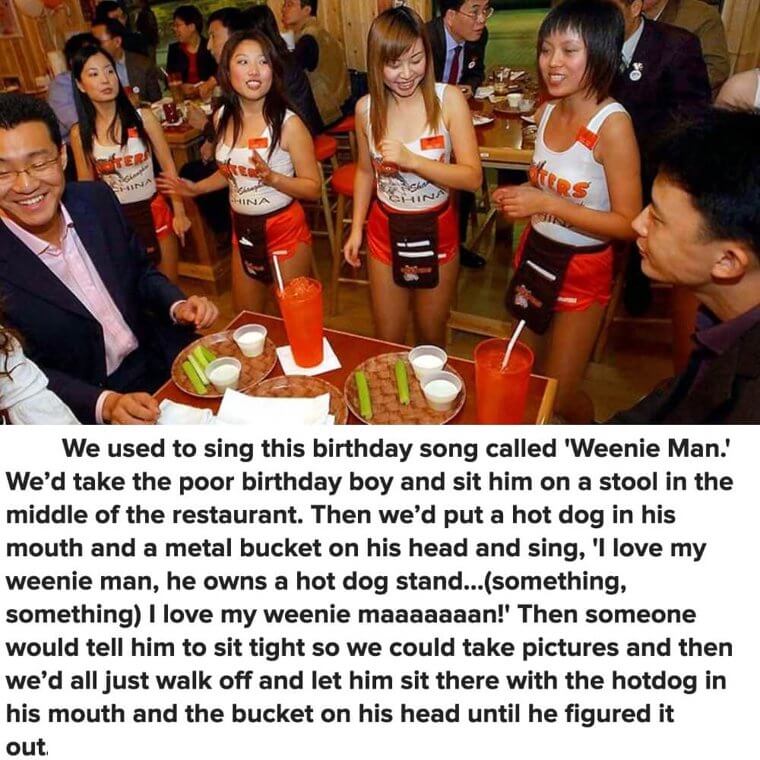 According to this former employee, Hooters girls would sing a song called "Weenie Man,"  to whoever had a birthday, while doing a ritual that involves a hot dog, a bucket, and a little public humiliation. We hope they liked it!
Some Really Love It There
According to this former Hooters girl, working at the chain was not only lots of fun, but it was also the perfect opportunity for her to hang out with her high school friends.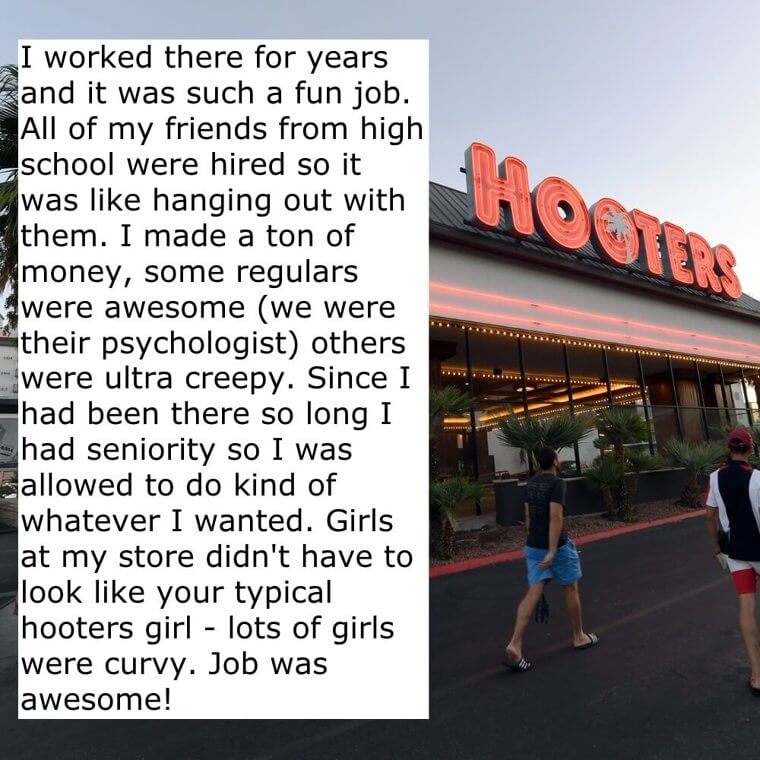 She even added that serving customers on a daily basis made her feel a little bit like her customers' psychologist. In the end, she only had good things to say about the chain, and even mentioned that in her particular branch, all body types were welcome.
​There Is A Logic Behind The Different Color Name Tags
The Hooters chain has a set of rules behind basically everything that happens there. A former Hooters employee has actually shared a very specific logistical detail about the place, the reason why Hooters has name tags in different colors.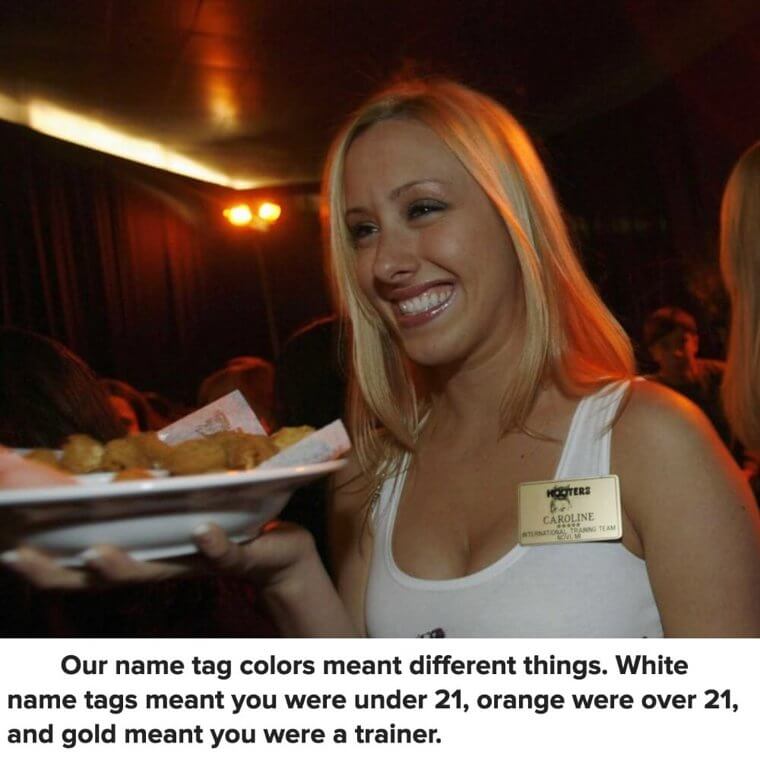 According to her, servers under the age of 21 have a white name tag, those over 21 wear an orange tag, and trainers wear gold tags. We have no idea why they would differentiate between their staff's ages, but well, we're just going to accept that that's how they work.
Their Uniforms Are Special
Here's another employee with wonderful memories of their time at Hooters. According to her, she was asked about the size of the uniform she would like, and after telling them her size, she ended up getting two sizes smaller.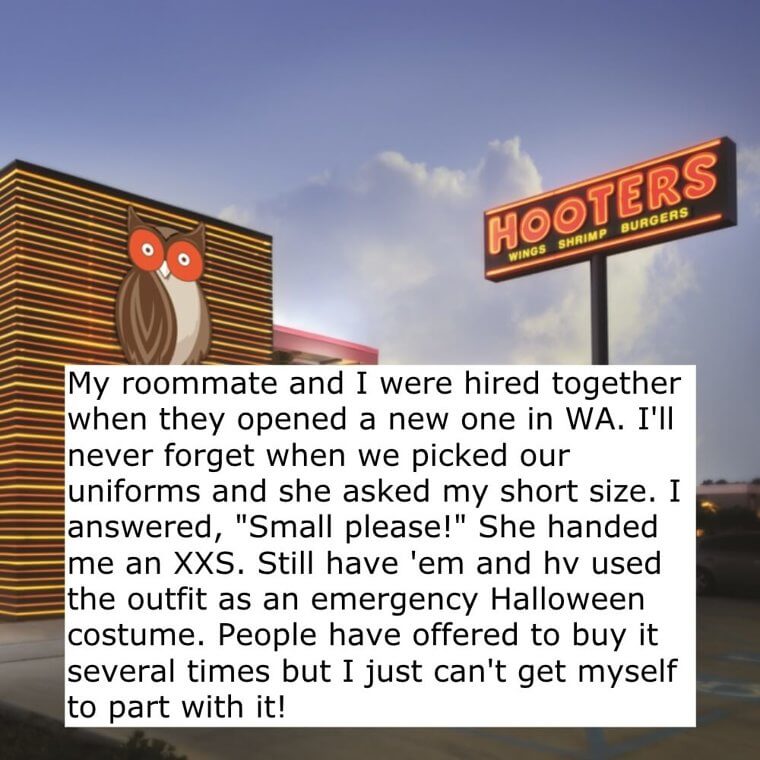 She liked her uniform so much, she couldn't bear to part ways with it and even refused cold, hard cash for it.
​Everyone Should Look Similar At The Establishment
One of the reasons why Hooters insists so much that Hooters girls should be clean-cut is to keep some sort of consistency. According to management, their waitstaff has to look similar, hence the ban of tattoos and piercings.
In order to work at Hooters with a tattoo, one has to cover it to the point where no one can ever imagine that a tattoo exists.
Hooters Girls Are Not As "Girly" And "Graceful" As Some May Believe
This one is probably no surprise to any of us. A former Hooters girl shared that even though many people see them as girly and delicate, they are actually just people who love to stuff their faces with the chain's food.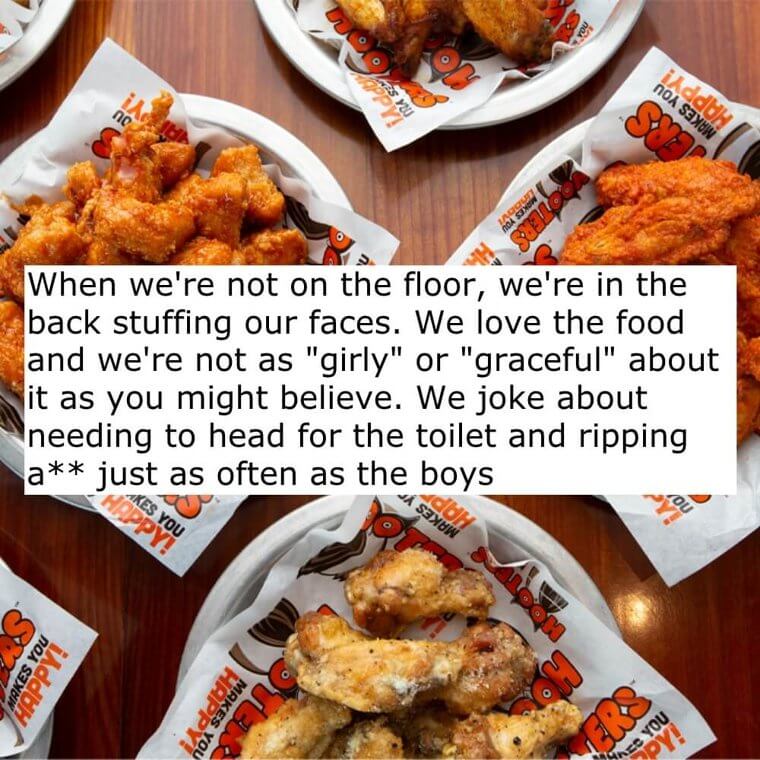 According to her, when they are not on the floor interacting with customers, they're at the back, eating away and making jokes like the rest of the boys. We don't see anything wrong with that!