This article was originally published on
Kueez
Isn't it so exciting to find a new at-home project online that looks like the perfect thing for you? You get to work and - oh... it turned out to look nothing like the example photo that initially sold you. It is just so FRUSTRATING when that happens! Okay, breaths now - turns out you're far from alone. In fact, DIY fails are some of the most ridiculous and funniest fails ever on the internet. Scroll down to feel better about your DIY skills and marvel at just how hilariously badly these people messed up their own DIY projects.
1. Orange You Glad You Didn't Try This?
Why buy a real candle when you could possibly burn your house down with this DIY? They saw this hack on Pinterest to use an orange as a natural candle, but they ended up creating a massive fire. This was a fail, to say the least. 
We don't know why anyone would want to use an orange peel as a candle. It probably doesn't give off as much scent as most people would want, and it is clearly a fire hazard. Orange peels are flammable, and now we all know. 
2. Nailed It!
Baby swings can be quite expensive, so someone posted a DIY version that is just as comfortable as the real thing. This person tried it, and the child looks like he wants new parents. His face says, "I can't believe I am related to you people. How could you do this to me?"
It is even funnier that they stopped to take pictures before taking him out of the swing. While the original child is as happy as a clam in his swing, the "reality" child is miserable because the jeans are digging into all the wrong places. 
3. This DIY Is More For Egg-Sperts
We would leave the decorative eggs to the professionals unless you want to waste a bunch of perfectly good eggs. These carved eggs look beautiful and intricate, but the shells are so delicate that you need to have a very steady hand. 
It looks like the person took a hammer to the shells instead of delicately carving them into art. After the third attempt, she got frustrated and declared that this was a Pinterest fail. It was not worth the wasted eggs. 
4. Who Needs An Auto Shop When You Can DIY?
When you want to save money, there are plenty of ways to fix things yourself, but that doesn't always mean they are good ideas. Taking your car to the auto shop might be expensive, but at least they know what they are doing. When this person's mirror broke, they decided to skip the auto shop and go straight to DIY.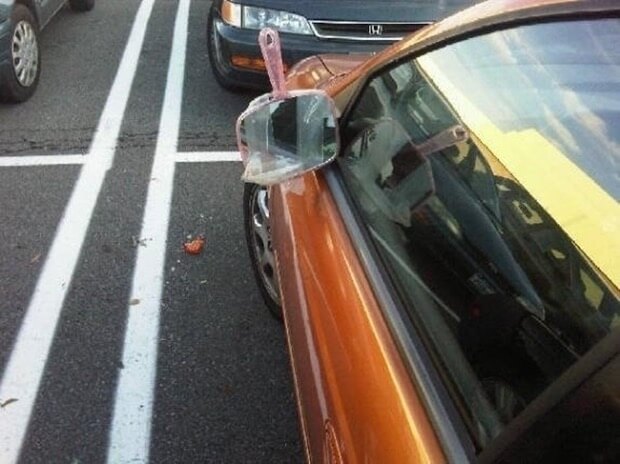 The hand mirror might be a quick fix, but we don't think this is a good long-term solution. You might want to skip the DIY considering side mirrors are a pretty crucial part of your car. They aren't something that can be replaced with a different household object. 
5. If At First You Don't Succeed, Add More Black
Nail art is no easy task, and most of the time, these Pinterest pictures don't come with instructions. When this person tried to recreate these cartoon nails, they thought adding more black would solve the problem, but it just made them look messier.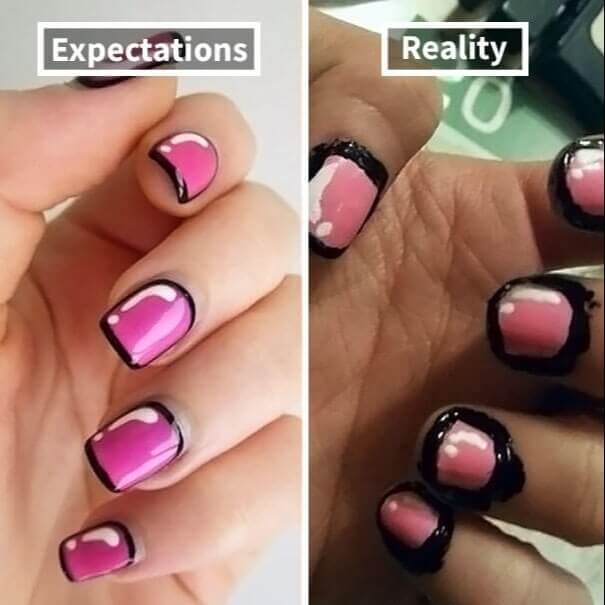 Sometimes adding more black can solve your problems, but it won't help every art project. These nails look too hard for someone that is not a nail art pro. Even with step by step instructions, people would still manage to mess these up. 
6. It Looks Just Like The Original, Kinda
This man tried to follow the knitting tutorial to make the hat in the first photo, but it didn't turn out the way he had hoped. This would not keep his head warm in the winter because the holes are so large, and the cold air would go right through it. 
He doesn't look too impressed with his work. He must be wondering where he went wrong because he followed all the steps. Even if you follow the directions, there is a high chance that you will still end up with something that looks completely different from the original photo. 
7. You Can Tell They Really Tried
This cute knitted stuffed animal was a cute idea, but it looks like an advanced project and not for knitting beginners. We don't know this person's history with knitting, but it's safe to say they were not ready for this project. 
The cute plushy that they were trying to make looked more like a purple worm rather than a hippo toy. It's always the thought that counts, but we don't know what they were thinking when they decided to attempt this design. 
8. Don't Bother Getting A New Bike If You Have This In The Garage...
There are plenty of DIY tricks to fix up your bike on the internet, but this one has to be the worst. Their front wheel fell off, so they took the rusted part of a lawnmower and use that as a front wheel. They can no longer ride their bike on the road, but they can quickly mow the lawn.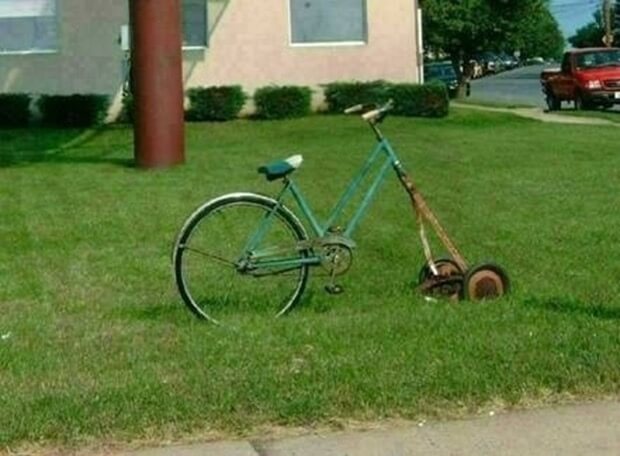 If they were trying to DIY a lawnmower, we still would classify this as a fail because the bike tires don't do well on grass. They should just invest in a new lawnmower because it looks like this one has seen its day. 
9. So Close, Yet So Far
To get into the fall spirit, this person found these cute fall foliage candle holders. When they tried to recreate them, it turned out looking more like a pre-schoolers art project. It was not the fall vibes they were going for, but they didn't know how they messed it up.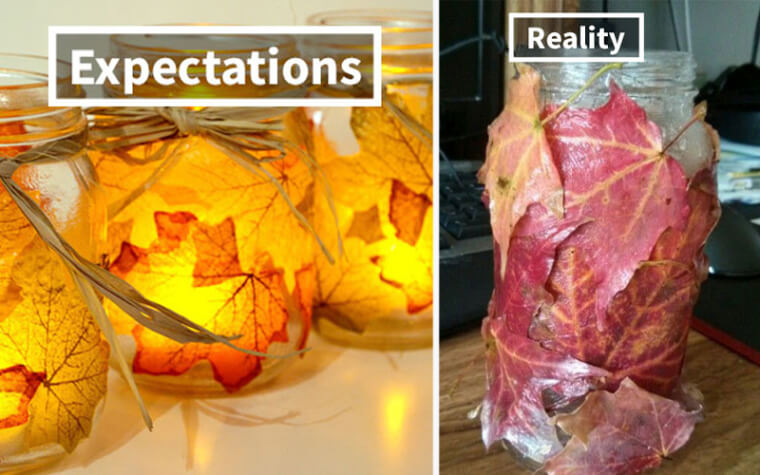 They followed all the instructions, but something went wrong, and theirs was nothing like the picture. When you decide to glue leaves onto a jar, it doesn't sound like it is going to turn out cute anyway. We don't really know what they were expecting to happen. 
10. Duct Tape Fixes Everything, Right?
They say duct tape fixes everything, but we don't know if this hammock qualifies. As soon as someone sits on this, they will fall right through because we doubt the duct tape could hold the weight of an adult. Whoever thought of this DIY has a lot to answer for.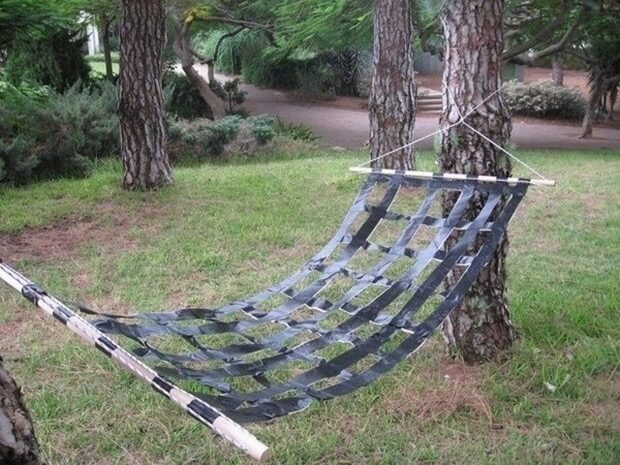 There is no evidence that this DIY works because they only took a picture of the finished product before sitting on it. Hammocks are a lot of fun, but they don't cost that much to get one that doesnt' break easily. They probably found this out the hard way once they fell on the ground. 
11. Something Went Wrong We Just Don't Know What
First of all, who would want a bowl made out of buttons? Some of these DIY crafts don't make any sense, but this person tried it, and it was a mess. Who has this many extra buttons lying around the house? Or did they spend money trying to recreate this? 
It looks like they ran out of buttons to the glue melted the buttons. Obviously, something went wrong, but we just don't know what exactly. We hope they realized how weird a button bowl is and decided not to complete the project. 
12. Zero Toes Up For This One
If you didn't try water marbling your nails, were you even a teenager in the 2000s? This trend came about in the late-2000's, and it never turned out quite like the pictures people saw online. Instead of having beautiful nails, you ended up wasting polish and getting it all over the cuticles.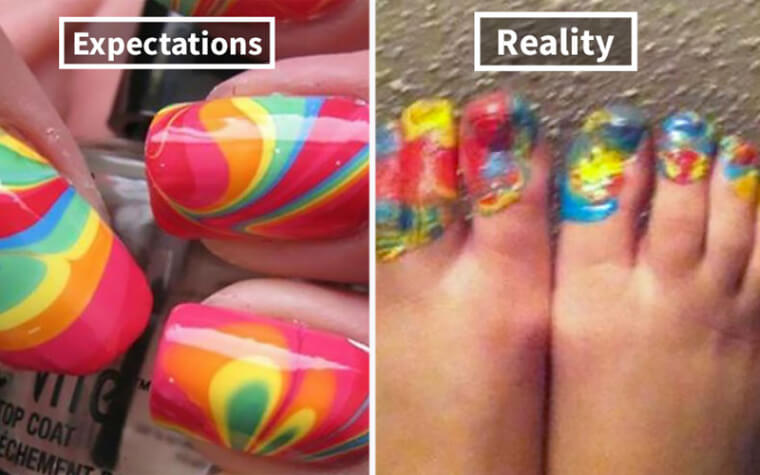 Like this person's toes, water marbling is the equivalent of letting a child paint your nails. Most of the polish won't end up on the nail, and the color mixes will turn out more like mud rather than a colorful masterpiece. 
13. Just Like A Regular Stove
Instead of fixing the burner or using one of the other working burners, this person grabbed their trusty iron and started cooking dinner. This is something college students do when they live in the dorms and can't have a hot plate.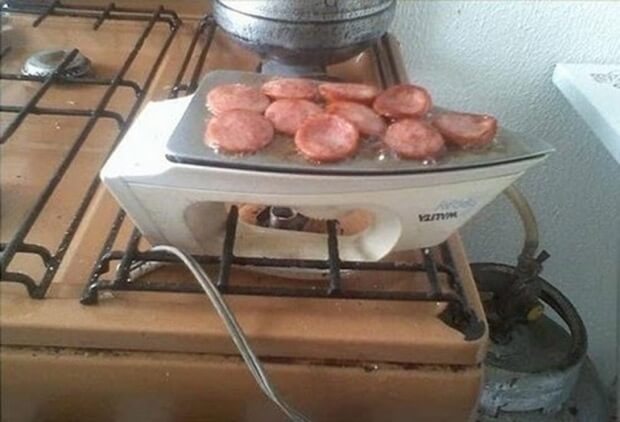 This is not the best way to cook meat because it might not cook all the way through, and then you will get meat juices on your clothes the next time you iron them.  It might seem like a good idea at the moment, but it is probably better to get a pan or fix the stove. 
14. Duct Tape Could Not Fix This One
Back in 2009, these melted crayon things were a really big trend on Pinterest, and anyone who made one probably threw it away a year later. However, some people couldn't figure out how to make them. This person thought duct tape would solve their problem, but it was too late. 
It seems like they tried to do this without having all the supplies. They only had the ugly colored crayons left, and they didn't have hot glue to stick the crayons to the board. It looks like a total mess that no one would want to hang on their wall. 
15. They Are Missing Summer Lake Days A Lot
When you don't live near a lake or have a boat, but you want to know what that feels like, just wait for the next flood. This street flooded, so these people saw the perfect opportunity to test out their DIY tow float. The water doesn't look that deep, so this is an accident waiting to happen.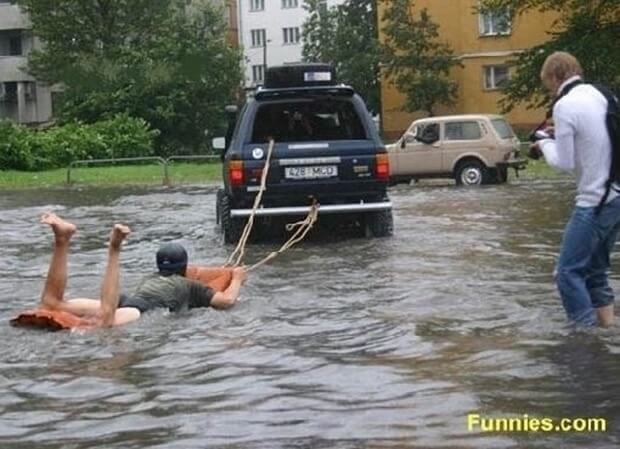 We can also imagine that this water is not the cleanest, so you wouldn't want to swim in it. However, these people do not let some dirty water or danger stop them from testing out their odd ideas. The moral of the story is to never give up on your DIY dreams. 
16. Frosty The Snowman Here To Creep You Out
There is one horror movie that depicts Frosty as a villain, and they might have gotten the idea for that movie from this tree. Although the original idea was cute, it definitely wasn't what they were going for.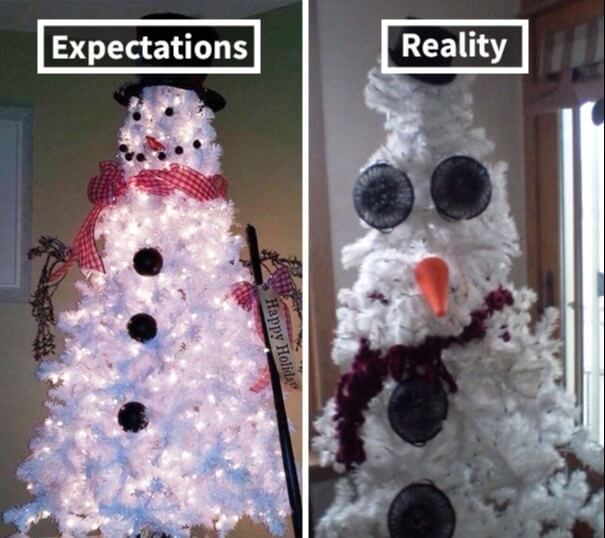 If their children walked past this tree at night, they would have nightmares for the rest of their lives. It is scary in the daylight, so imagine how much creepier it looks in the dark. We would not want this demon tree anywhere near our house. 
17. It's Only A Problem When The Tennis Racket Melts
We have no idea where these people found this DIY hack or how they came up with it on their own, but it doesn't look practical. They didn't have a strainer in their house, so they used the tennis racket to catch the ravioli. While the idea seems logical, it isn't 100 percent effective.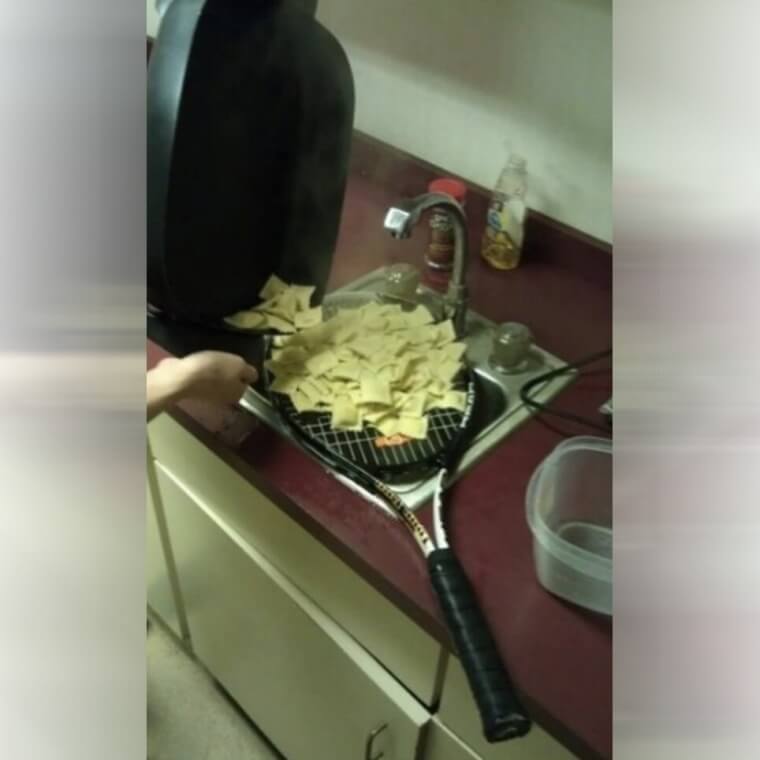 Stainers are bowl-shaped to catch everything, but a tennis racket is flat so that it won't catch all the pasta. If the water is too hot, the strings might melt, and then you wouldn't be able to eat the pasta or use the racket. Is it worth the double loss? 
18. A Hole Lot Of No
This poncho wasn't cute to begin with, but we aren't here to judge the style. We are here to say the recreation was not what she wanted. We don't know why someone would wear this considering it doesn't keep you warm, and it essentially has no purpose.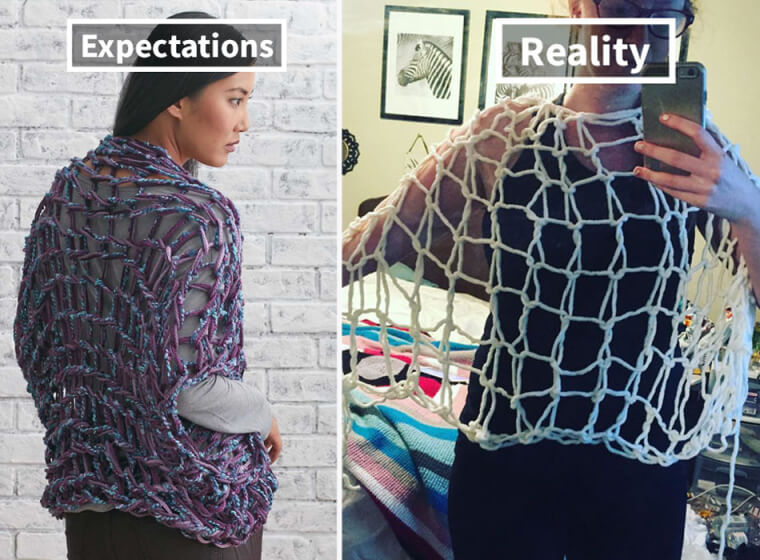 Instead of having something remotely cute, this girl ended up with something closely resembling those plastic rings used to hold soda cans together. It was a huge fail, but we wouldn't suggest trying this even if she did make it look like the photo. 
19. What Could Possible Go Wrong?
We have so many questions for these people. The first question is, how much did they drink before thinking of this setup? This pool party could become deadly in seconds if they aren't careful. It seems like they aren't afraid of what could happen.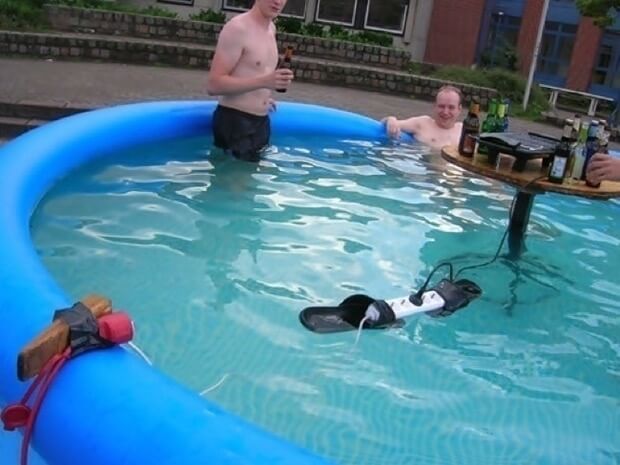 When the weather is nice, why not spend the day in the pool? These men set up a swim-up bar with a spot for grilling in the middle of the pool, but they failed to remember that water and electrical appliances don't mix well. 
20. So Close, Yet So Far
If a sound could describe this picture, the bottom photo would have Katy Perry saying, "They ask you how you are, and you just have to say that you're fine when you're not really fine." The girl looks dead inside because her cheetah eyeshadow is nothing like the one she saw online.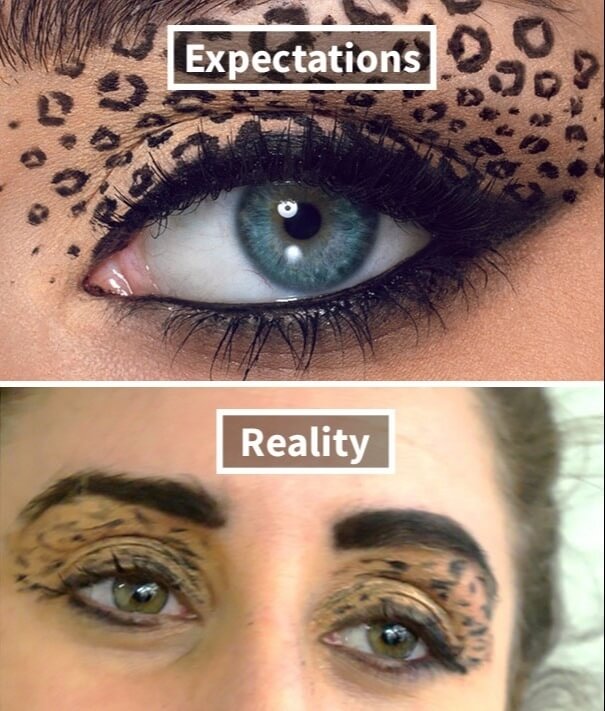 Cheetah print is not an easy look to achieve when you are doing it on your face. It is a challenging pattern that takes concentration. She tried her best, and it didn't work out, so she should blend it all together to create a smokey eye instead. 
21. How Long Before This Spills Everywhere?
The problem with cars is that there are never enough cup holders, so people have had to develop inventive ways to hold their drinks. However, not all of the ideas have been great. That tape looks like it will peel off at any moment, sending the coffee all over the passenger seat.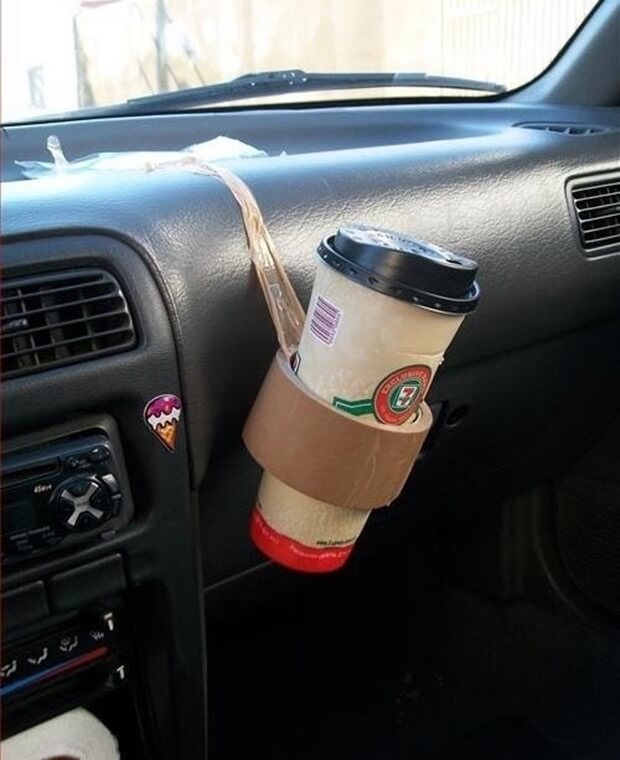 This isn't even duct tape, so you know it is definitely not going to hold. They are about to have a terrible morning because they will have to clean up coffee from all over their front seat. Hopefully, they have some towels lying around. 
22. Santa Now Says "Oh, Oh, Oh"
Maybe this woman was looking in a mirror when she put together this festive sign, or she didn't know how Santa laughed. Instead of the traditional, "Ho, Ho, Ho," she made it say, "Oh, Oh, Oh." That doesn't sound like Santa.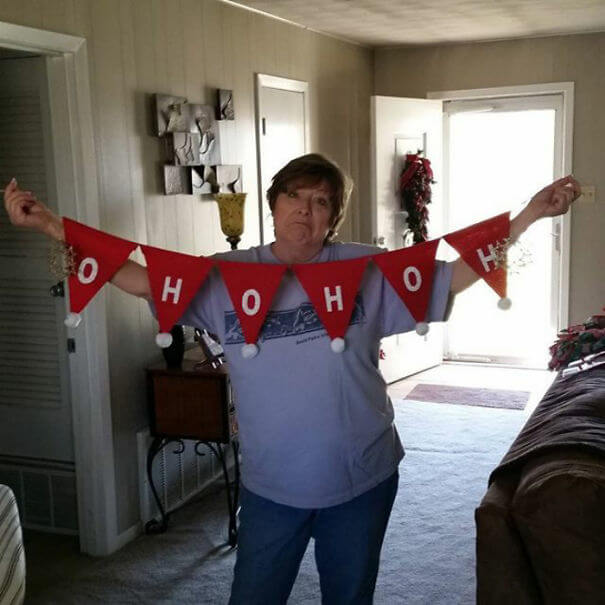 At least this is one project she can quickly fix, unlike the other fails on the list. She does look disappointed in herself, and she probably had to hear all the jokes about this from her children for the next few holiday seasons. 
23. Just Like A Car Radio But Better
When we think of the word "ratchet," this is what comes to mind. They replaced their car radio with a real stereo system, not meant for cars, and it does not look good. It seems like they DIY'd many things in their car, and we don't know how much more life this car has in it.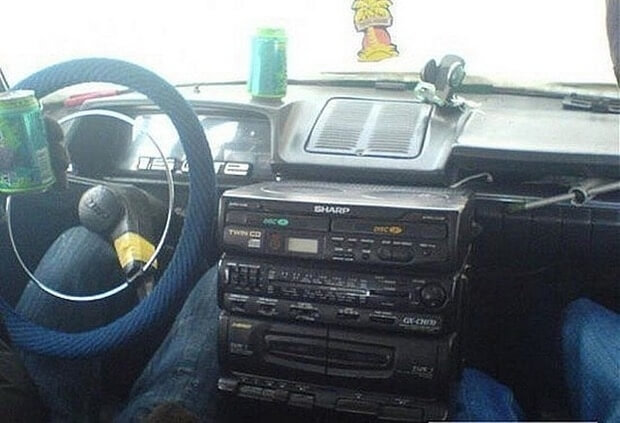 Imagine trying to drive with this massive stereo sticking out of your car. It looks like it would get in the way, and it probably doesn't work as well as the radio that is supposed to go in the car. 
24. Washing Machine And Cooler All In One
What do you do when you have a big party, but nowhere to put the drinks because you forgot to buy a cooler? Have no fear because your washing machine can double as a place to keep the drinks cold. Although no one can do their laundry, it doesn't matter because they have cold beers.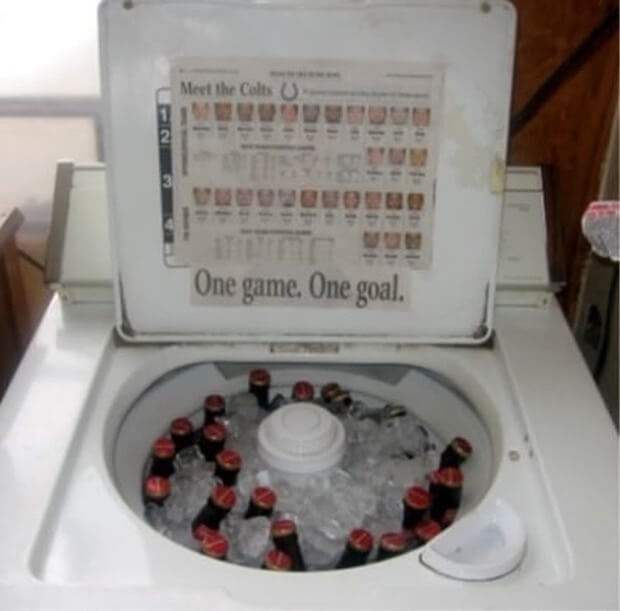 We don't know how they plan to get all the ice out, but they will have to worry about that after the beer is gone. So, next time you have a party, you can store your extra beer in the washing machine. If your washing machine breaks, you can blame it on these people. 
25. Engineering At Its Finest
When you move into your first apartment or college dorm, you might not have everything you need as far as kitchen utensils. Instead of buying a pizza cutter, these students made their own from a can and a ruler. They must be studying engineering.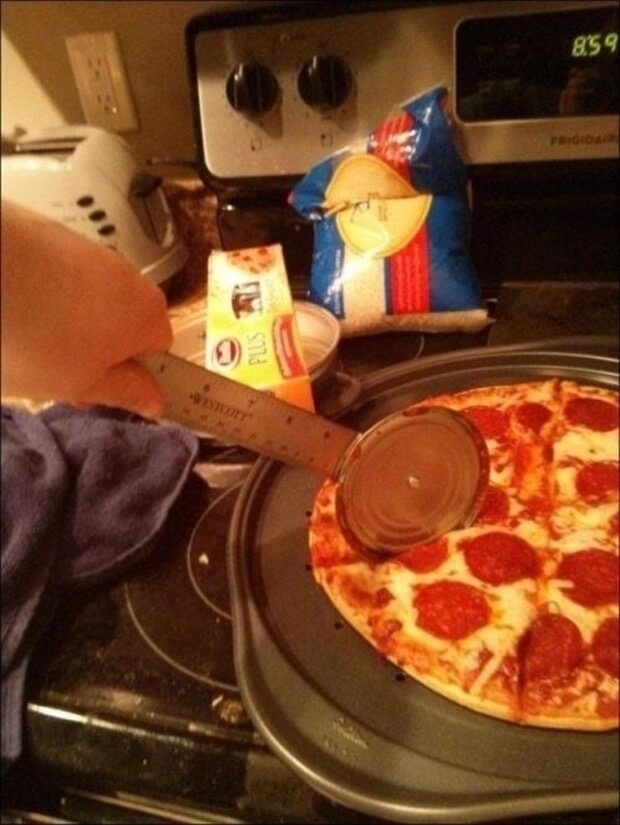 It not entirely a bad idea because they can continue to recycle can tops, but they could also buy a pizza cutter. Some people don't care about having fancy kitchen utensils as long as they get the job done. 
26. The Mixer Broke So They Resorted To Other Tools
Who needs a mixer when you have a drill and part of the mixer. These people weren't going to let anything stop them from baking a cake. They saw a cake on Pinterest and wanted to recreate it, but when they needed a mixer, theirs was broken, so they improvised.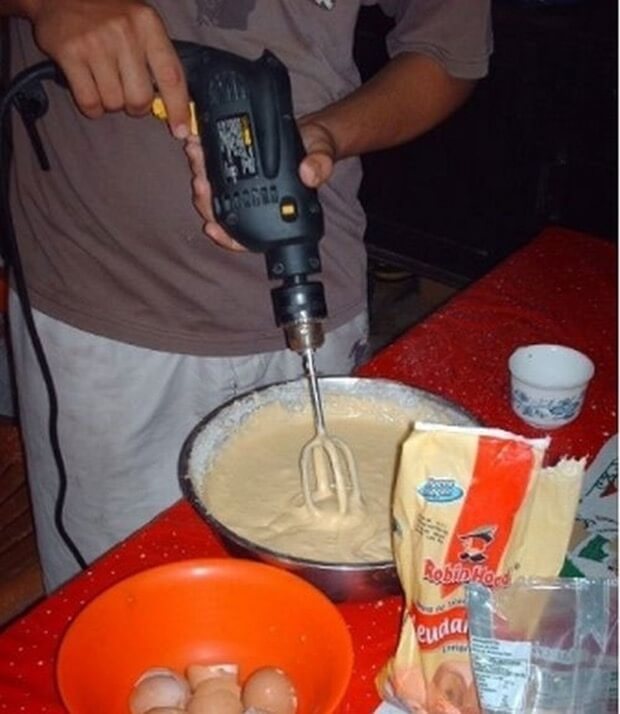 The drill mixer might have worked, but their cake was a fail. It ended up looking nothing like the picture which came as a surprise for nobody. Using a whisk is far less dangerous and just as effective. 
27. Just Like The Ones We Had At School
This seems perfectly safe, right? Whoever thought of this had no concern for the children that might try to use the makeshift see-saw. This balancing death trap is waiting to claim its first victim. We hope no one actually used this.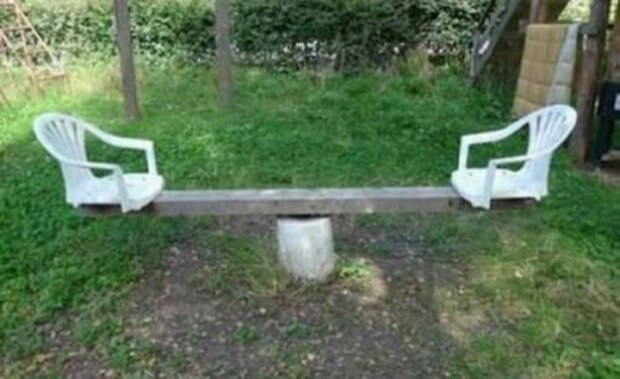 They tried to create something fun for their children, but this is all they could come up with. They could have at least added safety belts, so the children don't fall off. We wouldn't let our children near that thing with a ten-foot pole. 
28. Safety And Luxury Combined
Who needs seatbelts or chairs attached to the car when you can sit comfortably in armchairs. They needed another row of seats, so they found these two on the side of the road and added it to the back of the van. Slap on a 'VIP" sign, and people will want to sit there.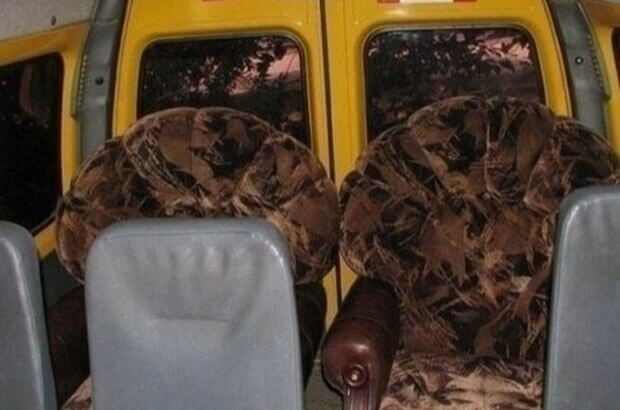 If this van got pulled over by the police, they would be in a lot of trouble because there aren't any seatbelts. We like wearing a seatbelt for safety purposes, but some people don't care about the possibility of being thrown from the car. 
29. Parent Of The Year Award For This Person
This person just won parent of the year with this new way to hold their baby. Instead of holding them the normal way, they used their shirt as a carrier. While the baby seems fine with this, it's probably not that safe. However, who are we to judge?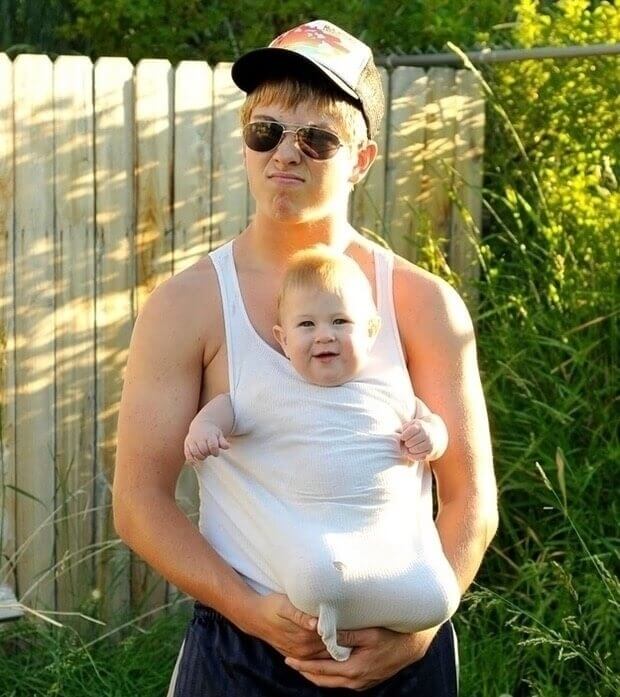 They can hold their baby however they want because they are the parents, but we wouldn't suggest other people try this. If that shirt rips, the baby will be on the ground in seconds. Babies don't like being on the ground, or so we have heard. 
30. At Least He Will Have A Great View Before He Falls
This man didn't have a balcony or a second floor, so he hoisted a couch onto his roof and brought up some beers as well. At least he can enjoy the view before the roof collapses and brings him back to the first floor.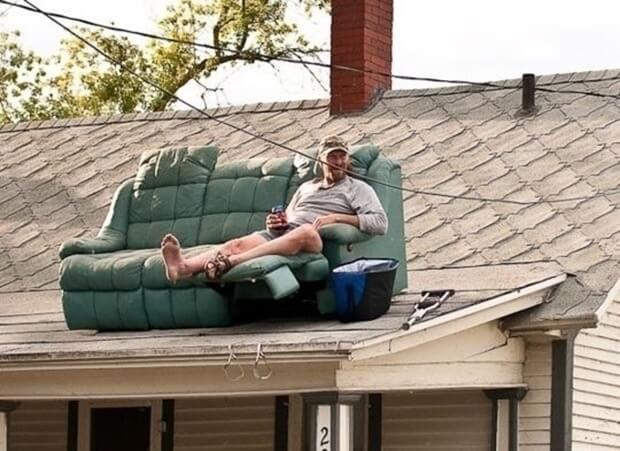 Honestly, if you don't mind the looming risk of a broken leg or skull this actually looks like a pretty cool place to sit. He doesn't seem to mind either - feet up, beer in hand, this guy is just glad to have a few moments of peace and quiet away from his wife and kids.
31. No Hot Tub, No Problem
These people look like a giant is cooking them, but they don't care because it feels like a hot tub. We have no idea how these people managed to create this giant wood-burning jacuzzi, but it is one of the strangest DIYs we have ever seen.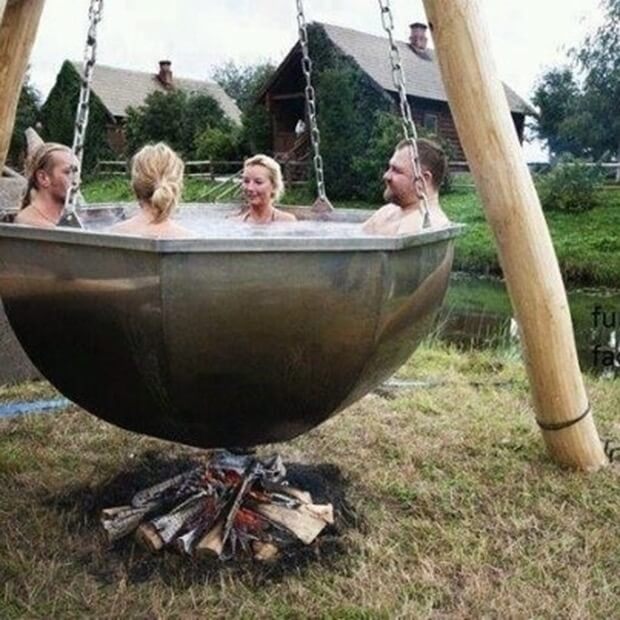 This witch's cauldron-looking contraption might work, but does anyone really need this? It probably takes forever to heat up, and it doesn't look easy to get in and out of. At least these people are satisfied with their DIY. 
32. This Seems Safe
Out of all the things you could DIY this one has to be one of the most dangerous. Why would anyone hot glue razor blades to plastic forks? Could they not buy regular razors? It seems somewhat functional but not the most sturdy base for a razor.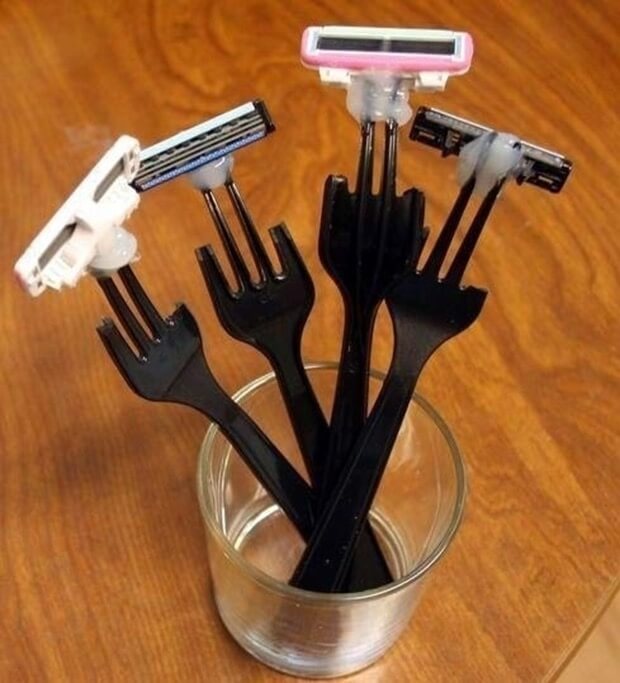 While certain razors can be expensive, the disposable ones come in bulk packs for a fair price. We don't see why anyone would try this, or where they found this idea. Some things shouldn't be DIY'd, and razors are at the top of the list. 
33. They Must Not Get A Lot Of Mail
When your mailbox breaks, don't worry about getting a new one. These people found a solution online, but they must not get a lot of mail. Instead of a mailbox, they used a mason jar, but that won't even hold one letter.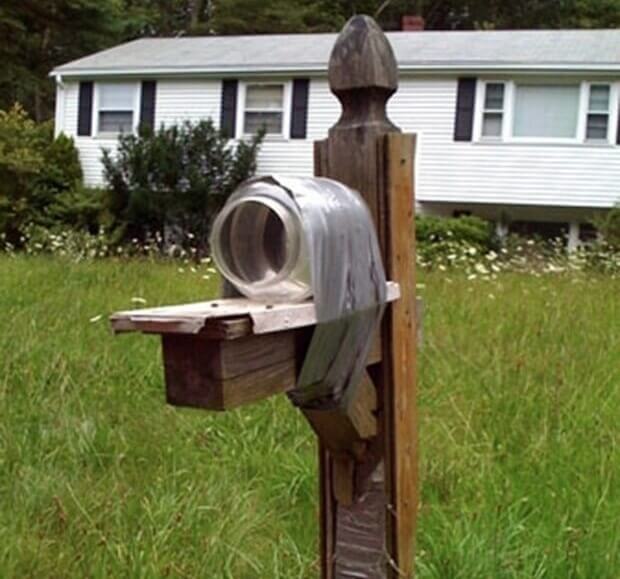 Are people finding these things on Pinterest, or are they just inventing these ridiculous ideas on their own? It is hard to imagine why someone would think this is a good replacement for a regular mailbox, but they don't care about the aesthetics or practicality. 
34. Summer Pool Problems Fixed
No pool, no problem! We have seen this trick many times on Pinterest and hack lists, but it's not the same as having an actual pool. It does the job of cooling you off, but you can't really swim around in it. This man looks pretty satisfied with his makeshift pool.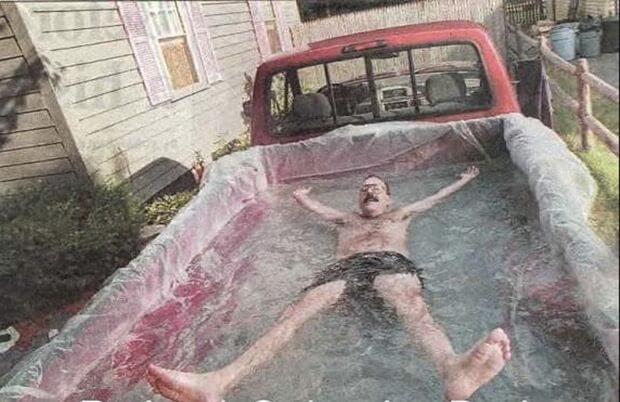 We guess when you are that hot, you don't care if it's a real pool or not. However, if you don't have a pick-up truck, you are pretty much out of luck. This does not work on the inside of your car, trust us. Unless you want your vehicle to flood, do not do this without a truck bed. 
35. Making The Best Of Getting Snowed-In
Getting snowed in might be fun because you don't have to go to work, but it usually comes with power outages and being stuck in your house, literally. These people must have run out of space in their fridge after they stocked up, so they made the most of the snow blocking their door.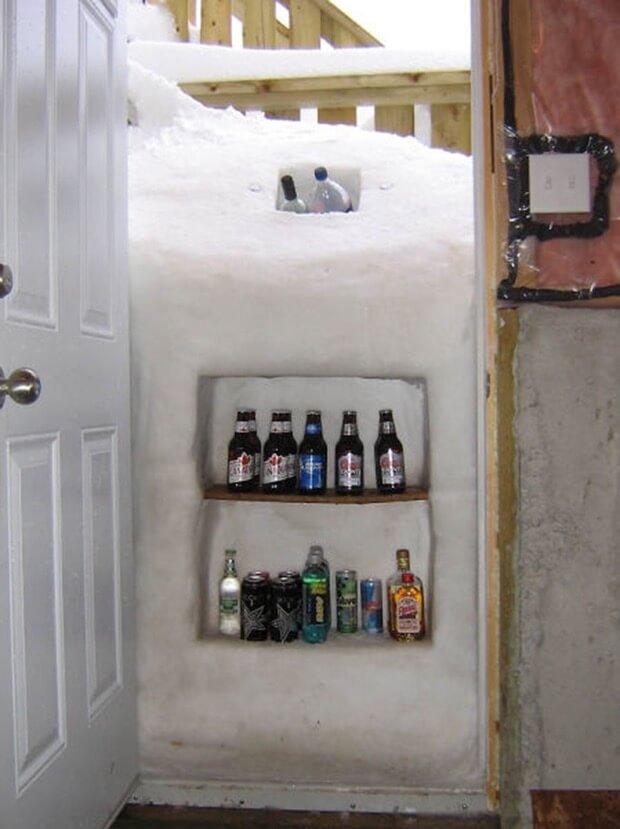 Who needs a freezer when you can use the snow to keep all your alcohol cold? They used their space wisely and took advantage of mother nature's freezer. It's not a bad idea until the ice starts melting, then they will have a problem. 
36. We Have So Many Questions
No, this is not a gadget from a movie set; this is an actual bike that someone made. We don't know how they put this together or got it to work, but we would be stunned if we saw this on the street. Seriously, how did they get this to function like real tires?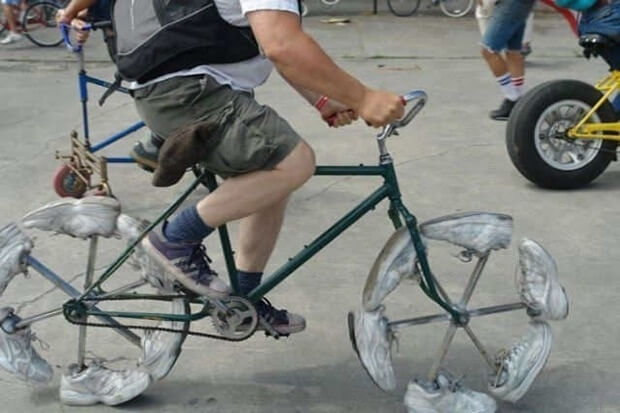 Can you imagine what this must feel like to ride? It would be anything but a smooth ride, but you would get some strange looks. People will do anything to save a couple of bucks, even if that means wasting a bunch of shoes. 
37. Something You Would Find In A College Frat House
This looks like a few frat boys put their heads together to fix the light fixture they broke in their rented house during a party. While it might be functional, it doesn't seem like it is a long-term solution. Those boys don't care as long as they get the security deposit back.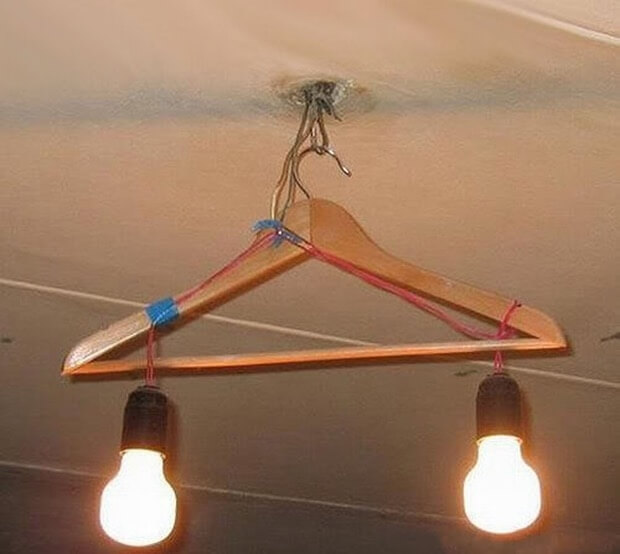 Coat hangers and electric wires probably shouldn't be mixed, but we aren't electricians, so take this with a grain of salt. As someone who is all about aesthetics, this would bother us so much because it looks like such an eyesore. 
38. When You Need To Grill, But Don't Own A Grill
For those who don't have a grill in their backyard, don't worry; we found the perfect solution. All you need is a metal chair that has holes in it. You can heat the chair over some coals, and it's just like a regular grill. Just make sure no one sits down for a while.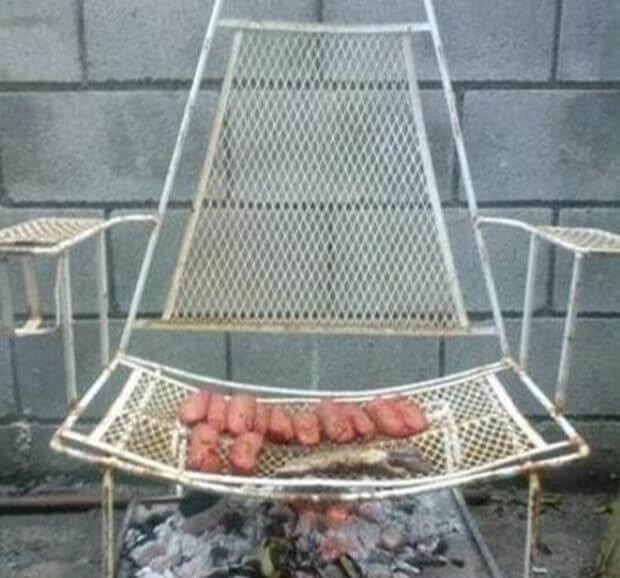 We don't know how effective this would be, and you might get lead poisoning if the chair is painted, but do it at your own risk. 
39. "Bombs Away!"
What's better than a slip-'n-slide you might ask? How about a slip-'n-slide that ends up in a pool? Woah! Did this family just win the lottery of good ideas?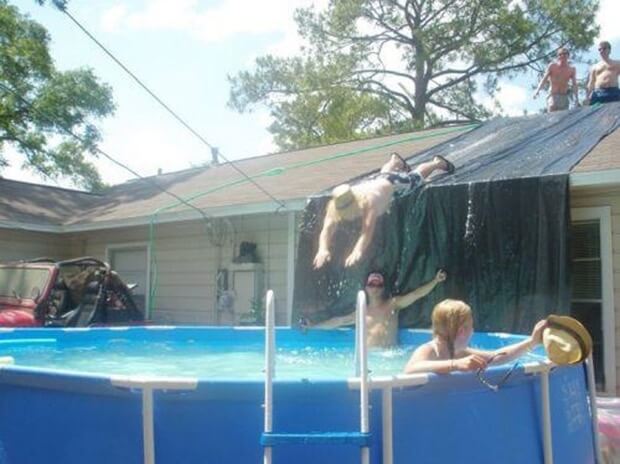 While it might look like that for a second let's stop and consider what's actually going on here; we have someone flying off the roof at high speed into a pool that is just barely off the ground. This photo might look awesome, but we're sure the photographer put the camera down after everyone was panicking and calling 911.
40. How To Keep Your Kids Entertained Until The Computer Breaks In Half
This dad looks like the Spiderman of DIY projects. Clearly, the two boys had been arguing in the backseat over who gets to hold the laptop, so this dad decided to settle the argument in his own ingenious way.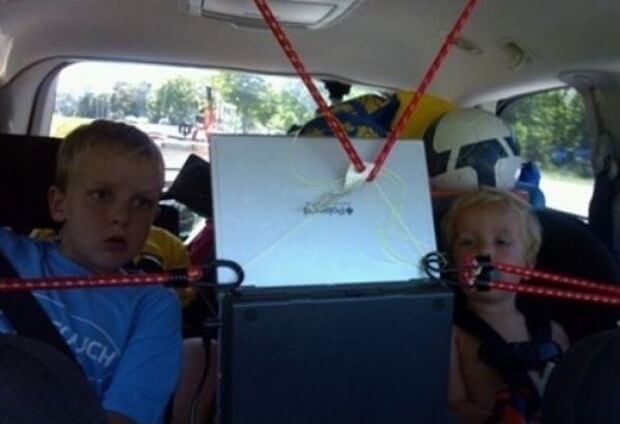 So far everything seems like it's working in the way the dad had planned. We can only hope that the bungees and the computer stayed in one piece throughout the entire ride, and nothing snapped or went flying anywhere.