Cusine plays a key role in defining a nation's culture, and is without doubt one of the most memorable aspects of travelling. Sampling unique flavours from across the globe is, simply put, one of life's great joys. Whether you're grabbing a quick snack from a street vendor, being entertained by somebody in their home, or dining out at a high-end restaurant, here are 7 dishes you must try from around the world.
1. Kimchi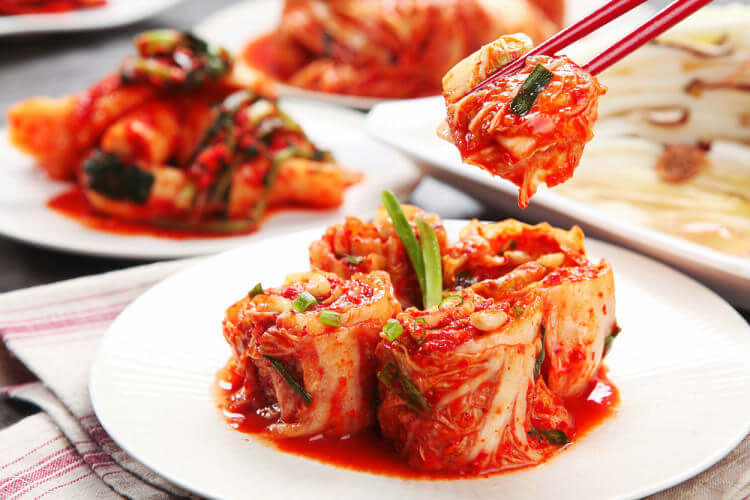 Lovers of spicy food will seriously enjoy this South Korean staple - Kimchi is essentially fermented vegetables with fiery seasoning. The main ingredient is Chinese cabbage, which is flavored with peppers, onions and garlic. Kimchi is truly Korea's national dish, and will be served in virtually every household.
2. Fondue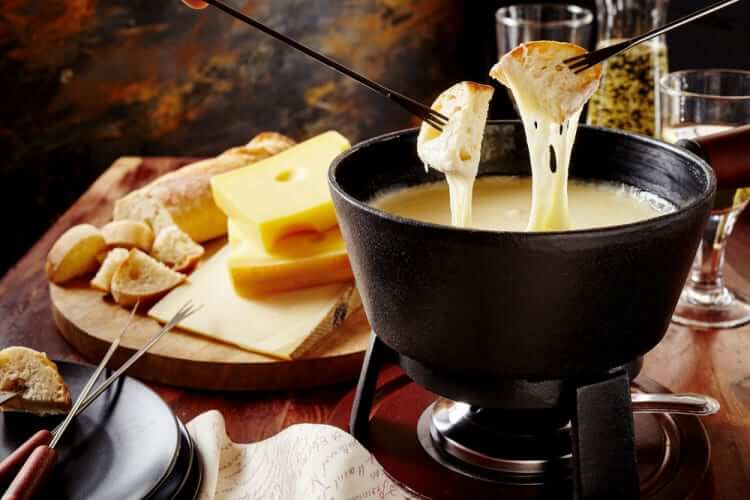 You'll struggle to find a more sociable meal than fondue, a dish of melted cheeses served in a pot over heat. We can thank the Swiss for this indulgent delight, who just so happen to produce some of the finest cheese in the world. What makes fondue such an unforgettable, communal experience is the way it's consumed. Diners dip chunks of bread into the dish using long, thin forks, twisting the cheese and praying the bread doesn't fall into the pot! Variations to the traditional cheese fondue include hot oil for dipping chunks of meat, and melted chocolate for dipping fruits, biscuits, or whatever takes your fancy.
3. Paella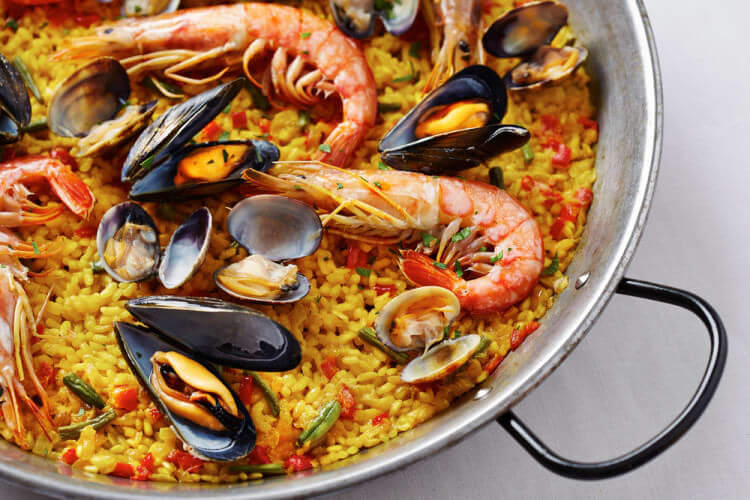 Spain's national dish is instantly recognizable, and is best enjoyed sat at a table outdoors overlooking the Mediterranean. Paella is traditionally made with a wide variety of seafood and chicken, mixed in with white rice and an assortment of vegetables. Paella isn't solely restricted to meat-eaters though, as vegetarian versions are also common.
4. Bangers And Mash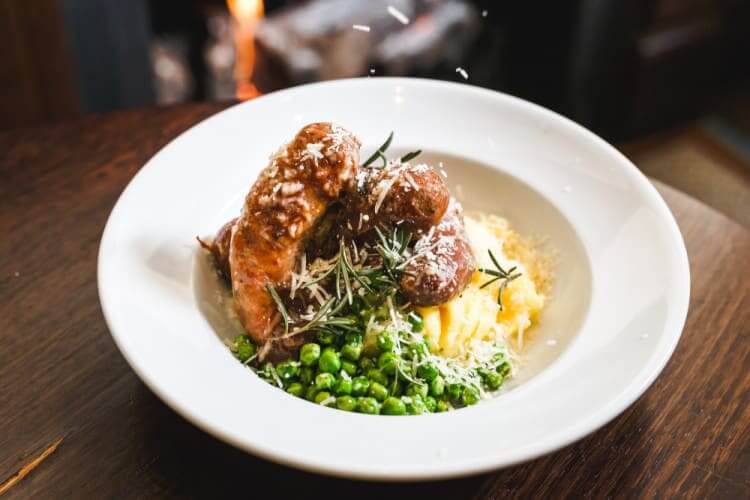 To cap off a foggy day in London town, find a cozy spot in a traditional pub and enjoy a hearty plate of bangers and mash. Beloved by the British, bangers (slang for sausage) and mash (mashed potato) is typically doused in onion gravy and served with a portion of peas. Perfect for a chilly day.
5. Sushi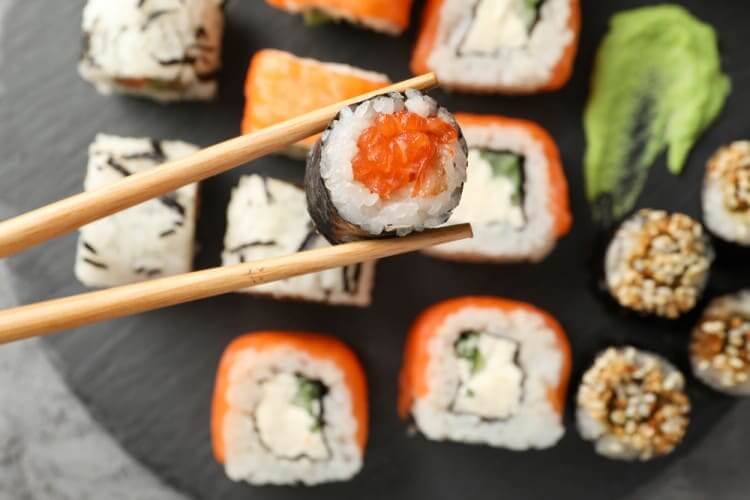 Sushi has become so popular it can probably be found in every corner of the globe. However, nothing can beat authentic, Japanese sushi. Rice and seaweed form the base of the dish, and they house any ingredient - whether it's seafood, vegetables or meat. Sushi is usually accompanied by wasabi and soy sauce.
6. Croque Monsieur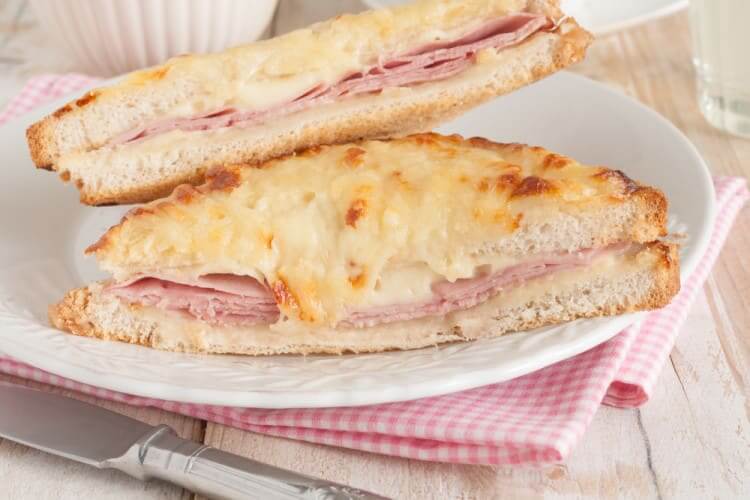 A wonderful way to start your day, a visit to France isn't complete without sampling a croque monsieur. The dish originated in French cafes and bars to serve as a quick snack, it's a hot sandwich filled with ham and cheese, with extra cheese melted on top. Is it the healthy option? No. Do we care? No.
7. Adobo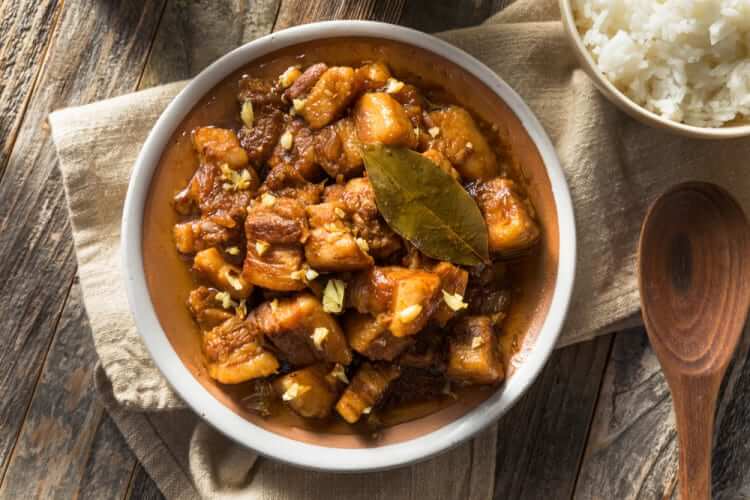 Adobo is the national dish of the Philippines, and is a must-try. Chicken or pork is marinated in soy sauce, garlic, vinegar and black peppercorns, then browned in oil and gently simmered in the marinade. Packed full of flavor, adobo can be served on its own or with a side of rice or mashed potato.